Events
Design for America Leadership Studio to Focus on Accessible Cities
Eighth annual event will take place August 3 to 7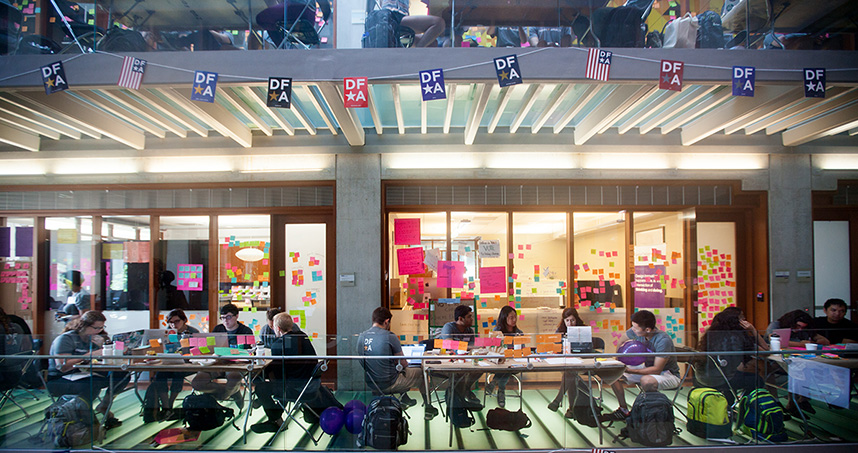 When designing public spaces, housing, and transportation, urban planners and developers have too often treated accessibility as an afterthought. 
But how can that mindset be changed to take into account the varying accessibility needs of the 80 percent of Americans who live in cities?
More than 105 students from 33 universities across the nation will tackle this question at the eighth annual Design for America (DFA) Leadership Studio. Crafted around the theme of "Accessible Cities," the event will take place from August 3 to 7 in the Donald P. Jacobs Center on the Evanston campus.
A grassroots, student-led network, DFA began at Northwestern seven years ago and has spread across the nation to 37 universities, including Stanford, Massachusetts Institute of Technology, Carnegie Mellon, and Yale. More than 1,300 students are now involved with the organization, where they assess social challenges using a human-centered design process and work collaboratively to implement solutions.
During the five-day event, students will learn about design, social innovation, and creative leadership. Sponsored by 3M, James Dyson Foundation, Shure, and Sodexo, this year's annual leadership studio will challenge students to use human-centered design to develop solutions to improve accessibility for people with disabilities living in urban areas. Students will interview users and stakeholders, iterate and prototype designs, and finally pitch their final products to guests and peers. They will also have the opportunity to listen to panel discussions on social entrepreneurship, post-graduation opportunities, and fundraising.
George Aye, cofounder and director of innovation at the Greater Good Studio, will deliver the first keynote speech, titled "Identity and Power in Design." Northwestern alumna Dawna Leggett, senior social researcher at Design Impact, will deliver the second keynote speech, titled, "Metathemes in Designing for Social Impact."
Other highlights will include:
Presentations from Northwestern's DFA Summer Studio students
A panel discussion featuring Karen Tamley, commissioner of the Mayor's Office for People with Disabilities, City of Chicago; Open Doors Organization; Judy Reis, health care policy analysts at Access Living; and the Shirley Ryan AbilityLab
A panel discussion about social impact, featuring Adam Hecktman from Microsoft Civic Innovation and Neal Sales Griffin from CodeNow
An introduction to "Designing Your Life," a new course that challenges students to apply design-thinking strategies to life, by Professor Bruce Ankenman, co-director, Segal Design Institute
Introduction to Whole-Brain Engineering by Julio M. Ottino, dean, Northwestern Engineering