Events
NUvention: Web + Media Students Pitch Web-based Businesses
On June 6, students pitched their ideas to an audience of faculty, peers, and guests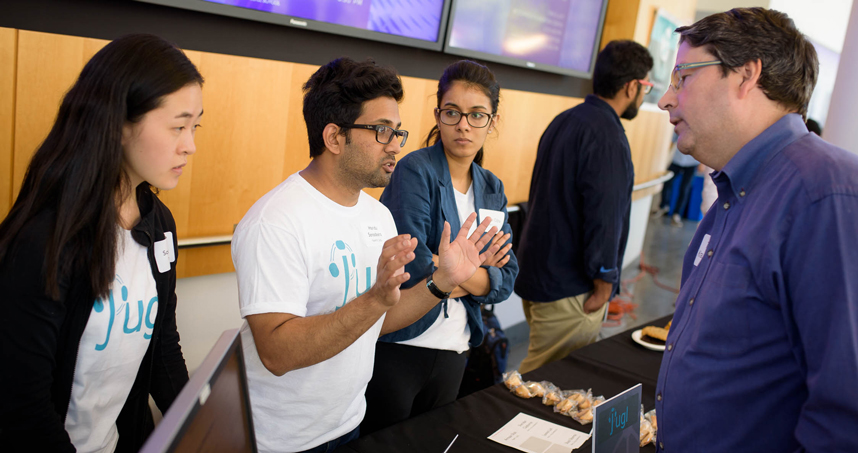 For new graduates, the prospect of transitioning from school to the workforce can be daunting. But even before beginning a career, students must first navigate the complex, inefficient process of applying for jobs. As candidates submit dozens of applications across different company websites, job search sites, and social media platforms, the work to oversee each individual application's status can quickly become unmanageable.
"Students easily feel overwhelmed by the number of different websites and portals they need to search and sign up for to submit an application," said Vijeta Ojha, a graduate student in the Medill School of Journalism, Media, Integrated Marketing Communications' Media Innovation and Entrepreneurship program. "There's no tool in the market to organize all of their applications effectively."
Determined to help relieve the stress new graduates experience during the application experience, Ojha and her NUvention team created Jugl, an online platform that organizes and tracks all job applications within one simple, intuitive dashboard. The startup was one of nine student-developed online businesses introduced at the final presentations of NUvention: Web + Media, a two-quarter course offered by the Farley Center for Entrepreneurship and Innovation in which students work together across disciplines to design, plan, and launch web-based startups.
On Tuesday, June 6, members of the class pitched their startups to an audience of faculty, peers, guests, and members of the NUvention board of advisers.
Jugl's Google Chrome extension allows job seekers to save postings from any website directly to their Jugl job board. With all of their applications in one place, users can easily update and track the progress of their applications, review to-dos, and access company information without having to leave the platform.
Ojha, who noted that members of her team have applied to as many as 70 different jobs, believes that the startup's service addresses a need for a growing market.
"There are expected to be 4.5 million college graduates this year entering the workforce," said Ojha. "The job search process as it stands now is not built for them. We think Jugl can change that."
Other NUvention: Web + Media projects include:
Breezy: A social media marketing tool for small businesses that lowers the cost and maximizes the efficiency of social media ad campaigns
CoEva: A platform that empowers students to offer useful feedback on classes simply and efficiently
Collective: A Chrome extension that rounds up your online purchases to the next dollar and donates the difference to those in need
Follower-Stack: A service that offers easy integration of multiple social media accounts to increase traction
Gateway: A centralized hub to help students quickly find academic resources
Muse: An outing-based dating application that promotes connection through activity
ShareVR: A platform for VR players who want to share their virtual reality experiences online
Teleos: A video analytics tool that aggregates key audience metrics across video publishing platforms
NUvention: Web + Media exposes students to the entire product and business lifecycle in the web and media fields. Teams are encouraged to continue to work on their projects after completing the course. Past NUvention: Web + Media teams have gone on to appear in TechCrunch, PCMag, and Rolling Stone.