Education
NUvention Students Pitch Business Plans for Arts
On June 2, students pitched their ideas in front of an audience of faculty, peers, and guests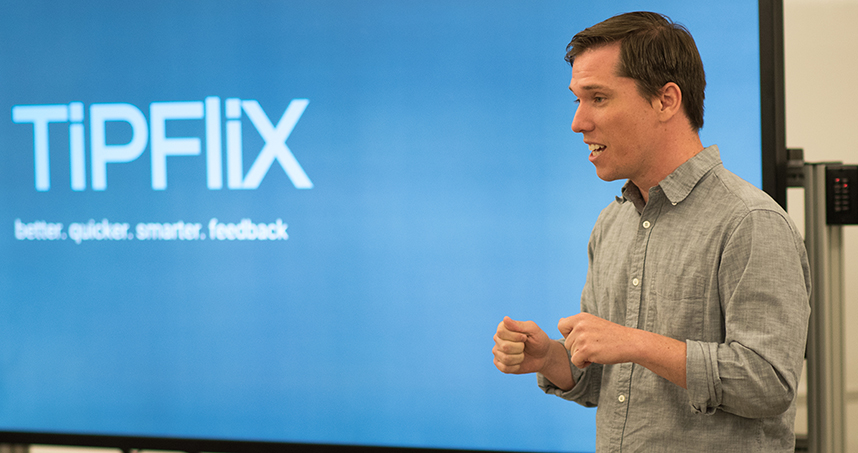 The last time graduate student Stephen Nelson made a film, he initially felt proud. His film showcased a compelling story and a strong central character, and the plot folded together seamlessly. But when he exhibited the film for his classmates, he became confused and discouraged.
For every classmate who liked one point in the film, there was another classmate who disliked it. Instead of giving actionable feedback, students debated the film's many nuances, became distracted by details, and diverged into tangents.
"I realized that navigating the space was going to be really complicated," said Nelson, an MFA student studying documentary film. "I couldn't get the information that I needed. I was dealing with short-term memory loss. My classmates couldn't tell me when they were bored and when they were engaged."
Motivated by this discouraging experience, Nelson and his NUvention team developed TiPFliX, an online platform that gathers viewer feedback, synthesizes and clarifies it, and then sends it back to the requester in a digestible format. TiPFliX was one of the six new, student-created arts ventures introduced during the final presentations of NUvention: Arts, a two-quarter course that challenges students to collaborate across disciplines to design, plan, and launch arts-based businesses.
On Friday, June 2, members of the class pitched their final products to an audience of faculty, peers, guests, and members of the NUvention board of advisers.
Widely praised by the audience, TiPFliX collects quality feedback through one distribution link. A filmmaker sends the link to people whose opinions they value, such as professors and peers. Using a machine-learning algorithm, the platform sorts through all of the feedback and presents the data in a concise format. The algorithm customizes the feedback for each filmmaker's needs, saving them the time and frustration usually spent on navigating the disorganized feedback process.
"I would have loved to have this five years ago," Nelson said. "But we can create it now."
Other NUvention: Arts projects include:
Cypher: a dance festival to help make dance more mainstream
Around the Fire: an online magazine, which features new content about diverse human experiences
ArtHood: a multi-functional art space serving artists and community members
SketchConnect: an online production company that produces sketch comedy, musicals, and variety shows for multicultural audiences
Fanside: a crowd-sourcing platform that helps fans bring their favorite bands to town
NUvention: Arts facilitates the creation, innovation, and organization of new ideas and companies in the creative arts field. Attended by students across Northwestern, the course helps students understand that success in the arts is a function of passion, work ethic, talent, and entrepreneurial drive.