Announcements
Linda Broadbelt, Randall Snurr Named to Leadership Positions
Snurr will succeed Linda Broadbelt as Department of Chemical and Biological Engineering chair on September 1
Two faculty in the Department of Chemical and Biological Engineering have been named to leadership positions at Northwestern University's McCormick School of Engineering. 
Effective September 1, Linda Broadbelt, Sarah Rebecca Roland Professor and chair of the Department of Chemical and Biological Engineering, will join the senior leadership team as associate dean for research. Randall Q. Snurr, the John G. Searle Professor of Chemical and Biological Engineering, will succeed Broadbelt as department chair.
"Because of Linda's excellent leadership, the Department of Chemical and Biological Engineering has grown tremendously in status and accomplishments and is recognized as one of the best programs in the world," said Julio M. Ottino, dean of Northwestern Engineering. "I am pleased to welcome Linda as an associate dean and am incredibly confident that Randy will continue to lead the department to even greater heights."
Broadbelt's research and teaching interests are in the areas of multiscale modeling, complex kinetics modeling, environmental catalysis, novel biochemical pathways, and polymerization/depolymerization kinetics. She is a member of the Robert H. Lurie Comprehensive Cancer Center of Northwestern University, the American Institute of Chemical Engineers (AIChE), the American Chemical Society, and the American Association for the Advancement of Science.
Her list of honors includes the Dorothy Ann and Clarence L. Ver Steeg Distinguished Research Fellowship Award, AIChE Women's Initiative Committee Mentorship Excellence Award, the Fulbright Distinguished Scholar Award, and the National Science Foundation's CAREER Award. Broadbelt is currently an associate editor of Industrial & Engineering Chemistry Research. She has served on the editorial boards of Chemical Engineering Journal and International Journal of Chemical Kinetics, among others.
"It has been an honor to serve as department chair for the last eight years, and I am proud of the progress that our faculty has made," Broadbelt said. "I look forward to working even more closely with colleagues around the University in this new role, and I am delighted that Randy will serve as chair."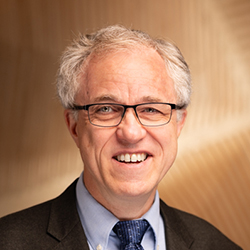 With an interest in developing materials to address environmental and energy problems, Snurr focuses on adsorption, diffusion, and catalysis in nanoporous materials. In collaboration with chemistry professor Joseph Hupp, Snurr has developed novel crystalline nanostructures known as metal-organic frameworks (MOFs), which are highly porous compounds that show promise for the storage of gasses. Successful clean energy startup NuMat Technologies commercialized this research, using computation to design and synthesize MOFs for gas storage and separation applications.
"I am fortunate to take over the position of department chair at a time when the department is in such a strong position," Snurr said. "I am very grateful to Linda for her leadership as chair over the past eight years. The department has never been in better shape."
A highly cited researcher, Snurr has received many awards throughout his career, including the 2011 Institute Award for Excellence in Industrial Gases Technology from the American Institute of Chemical Engineers, the Leibniz Professorship from the University of Leipzig, and a CAREER Award from the National Science Foundation. He also served as senior editor for the Journal of Physical Chemistry and is currently on the editorial boards of Adsorption, Adsorption Science and Technology, Chemistry of Materials, Current Nanoscience, and the Journal of Molecular Catalysis A.