Union Pacific CEO Discusses the Importance of Trade
Lance Fritz spoke Wednesday, May 3 in the Allen Center
In an effort to stitch together a fractured country during the American Civil War, President Abraham Lincoln signed the 1862 Pacific Railway Act. As a part of the bill, the US government committed to funding its first transcontinental railroad, connecting Missouri to California.
"We like to think of Abraham Lincoln as Union Pacific's 'employee number one,'" joked Lance Fritz, chairman, president, and CEO of Union Pacific.
More than 150 years after Lincoln signed the bill into law, Union Pacific Railroad continues to thrive. Hosted by the Northwestern University Transportation Center, Fritz discussed the secrets behind Union Pacific's enduring success as well as the importance of global trade during the 36th annual William A. Patterson Transportation Lecture. 
Fritz's talk, "Connecting People, Creating a Better Future: Why International Trade Benefits America," took place Wednesday, May 3 in the James L. Allen Center. The lecture followed an industry workshop focused on the use of public-private partnerships to spur future transportation infrastructure development.
"Partly the reason we have thrived over 16 decades is innovation," Fritz said. "Most people don't think of train companies as a hotbed of innovation."
Union Pacific, however, has implemented several innovations to keep its freight trains safer and more efficient. Instead of using manual inspections, for example, the company uses "Machine Vision," series of sensors and cameras that produce a three-dimensional model of each piece of train equipment. The model and images, which can be reviewed remotely via computer, highlight issues that need repair, so technicians can quickly zero in on areas that require attention. With this system, a 13-point inspection of a rail car takes just two minutes to complete.
Fritz also discussed the importance of trade, particularly among the United States, Mexico, and Canada. Fritz said that the United States' trade with its bordering neighbors has quadrupled over the past few years. Although many people worry that trade causes Americans to lose jobs, Fritz argued the counterpoint. He said that everything, at some point, has traveled on a railroad, including food, clothing, and technology systems. Because 75 percent of purchasing power lies outside of the United States, Americans can find success by tapping into foreign markets.
"We are a trade company; we build America," he said. "We're tightly woven into the fabric of the United States. NAFTA has been a jobs engine and a trade engine — all good for the US."
To highlight this point, Fritz used the example of Grupo Modelo, a large brewery in Mexico that exports Corona, Modelo, and Pacifico beers. The company ships glass-bottled beer to the United States, where recycling companies crush used bottles and send the glass to bottle manufacturers, which then make bottles to send back to the Mexican brewery, which then fills the bottles with more beer, bound for the United States.
"That's one tiny example that happens tens of thousands of times per day," Fritz said. "We are inextricably linked with trade in Canada and Mexico."
To meet the needs that accompany expanding global trade, Union Pacific continues to train its workers with new skills and implement innovations to keep train travel at the top of its game.
"We need to get more serious about training for the jobs of today and tomorrow," Fritz said, "rather than pining for the jobs of yesterday." 
Experts Discuss Public-Private Partnerships During Industry Workshop
The day's events also included an industry technical workshop that welcomed transportation experts, infrastructure developers, financiers, and operators to further discuss the use of public-private partnerships (P3s) in strategic transportation infrastructure investments and developments. 
Hosted by the Transportation Center and the Northwestern Center for the Commercialization of Innovative Transportation Technology, "Bridging the Future: Innovation in Large-scale Infrastructure Development" addressed how P3s can bridge the growing gap in federal funding required to update the country's aging bridges, highways, and other transit systems. While state and local municipalities have attempted narrow the shortfall through gasoline taxes and highway tolls, the need for new infrastructure projects continues to exceed the available funding.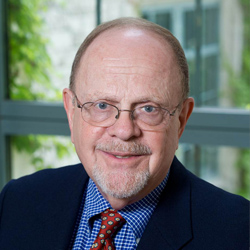 "Financing is a major obstacle to overcome in order to ensure that transportation systems meet the economic and social needs of today and tomorrow," said Joseph Schofer, associate dean, professor of civil and environmental engineering, and the moderator for the session. "The good news is that the private sector has been chasing transportation infrastructure investment opportunities for a long time." 
According to Robert Martinez, vice president at Norfolk Southern Corporation, understanding what motivates public and private entities to participate in large-scale infrastructure projects is pivotal to spur growth in the future. His company's $2.5 billion Crescent Corridor initiative—a P3 project—implemented new rail infrastructure across 11 states, providing a faster and more direct freight transportation route from the Southeast to the Northeast while also saving more than $575 million annually from traffic congestion. 
"From a private investment standpoint, you have to remind public partners time and again that profit is a good thing," Martinez said. "Transportation companies commit a significant amount of their revenue back into their operations to maintain their network and fleet. Governments must recognize the financial and operational benefits of participating in these projects." 
David Pennington, managing director at BMO Capital Markets, has advised both public and private entities on the financial considerations of major transportation infrastructure projects. He added that the value proposition for governments to participate in P3s is to deflect their share of risk. 
"Governments aren't normally interested in making money, so the primary selling point for them becomes the transfer of risk," said Pennington. "Corporations possess the time, experience, and resources to more easily embrace the financial risk of these projects. It's what makes these ventures worthwhile partnerships."