Events
Dean's Seminar Series Presents Dario Robleto
The seminar will take place at 4 p.m. Tuesday, May 9
Most people readily recognize the unmistakable sound of a heartbeat. The familiar thump is a vital sign of life, a telling piece of information for medicine, and, to transdisciplinary artist Dario Robleto, a work of art.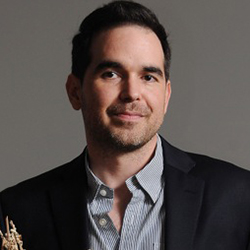 As part of the Northwestern Engineering Dean's Seminar Series, Robleto will visit campus next week to discuss his research-driven, science-inspired art, which has included recorded sounds and images of the heartbeat, neuroimaging, astronomy, and more.
Presented in partnership with the Mary and Leigh Block Museum of Art, the seminar will take place at 4 p.m. Tuesday, May 9 in the Ford Motor Company Engineering Design Center's ITW Classroom. Called The Poetry of Prisms, Robleto's talk will survey his transdisciplinary practice working with experts in various fields, including sound archeologists, neuroscientists, and artificial heart researchers and engineers.
Robleto's work across sculpture, installation, and sound intertwine multiple histories, including those of human exploration in both outer and inner space. Museums and galleries across the United States have exhibited his work. His piece, Defiant Gardens, is currently on view in the Block Museum exhibition If You Remember, I Remember, which is described as an invitation to reflect on the past while contemplating the present.
Robleto has served as visiting artist and lecturer at several colleges and universities including Bard College, Massachusetts Institute of Technology, and New York University. His awards include the 2007 Joan Mitchell Foundation Grant and the 2009 USA Rasmuson Fellowship. In 2011, the National Museum of American History selected Robleto as a Smithsonian Artist Research Fellow. He was also the 2016 Texas State Artist Laureate, and serves as artist in residence in neuroaesthetics at the University of Houston's Cullen College of Engineering.