Events
BuildHer Connects Female Hackers
Nearly 75 participants attended Chicago's first-ever student-run women's hackathon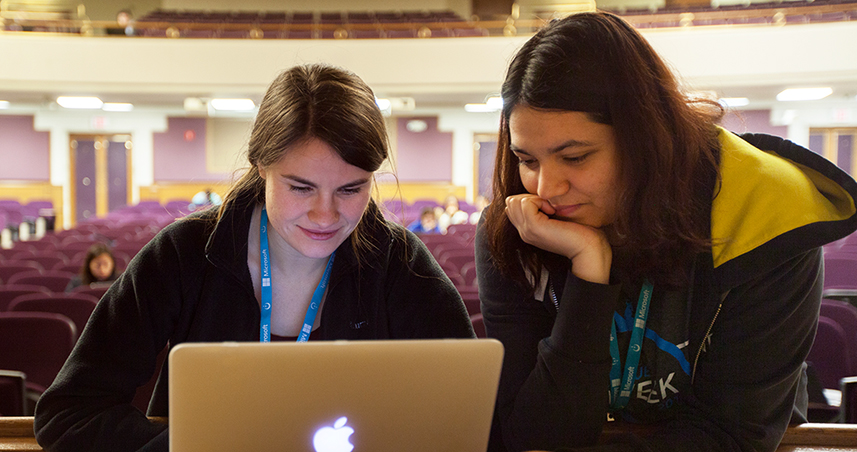 For more than 60 years, non-profit organizations have coordinated walkathons to raise money for special causes. What if your everyday exercise was like a mini walkathon, and you could count your steps for social good?
Three students behind a new app called Steps for Steps want to make that possible. The pedometer-based smartphone application donates 5 cents to a prosthetics organization for every 1,000 steps that a user walks.
Steps for Steps was one of the winning apps created at BuildHer 2017, Chicago's first-ever student-run women's hackathon. The April 7 and 8 event connected women hackers, giving them an opportunity to attend workshops, meet recruiting companies, and, of course, spend hours hacking. Nearly 75 participants from across the country attended the hackathon, where they worked all night in teams to build new apps, games, and web interfaces.
Steps for Steps received several awards at the event, including JP Morgan's Best Hack for Social Good, Intel's Best Health and Wellness Hack, Make School's Best Beginner Hack, and Best Domain Name from Domain.com.
The hackathons cofounders, Alaina Kafkes and Meg Grasse, were impressed by how many projects, like Step for Steps, aimed to make lives easier and improve society.
"Meg and I raved about the quality and utility of all of the projects created at BuildHer," said Kafkes, a senior studying computer science. "This wasn't a typical hackathon, where people build funny projects or projects that use the maximum number of programming interfaces for no purpose. That was the most striking impact of hosting a women's hackathon."
Microsoft, Intel, Edward Jones, JP Morgan Chase & Co., Diamond Assets, Deloitte, Morningstar, Braintree, GitHub, and Make School sponsored the hackathon. Representatives from the sponsoring companies participated in a sponsor expo and served as hacking mentors.
Other winning projects developed at BuildHer include:
PowerWalk: an interactive navigation map of crime data that helps women make informed decisions about routes when walking alone
Mommy Update: a smartwatch app that monitors a mother's physiological information while in labor and automatically sends a notification to friends and family after giving birth
On Call: an app that gives emergency instructions and responds to verbal commands
Crimsen: an app that tracks menstrual cycles and symptoms for women, non-binary people, and transgender women
Monday Moodboard: a website that features calming images and words of encouragement to help people manage stress
The Wage Wars: an app that explains the gender pay gap and gives tips for how women can take action to achieve equal pay
Butterfl-eye: an app that uses eye-tracking software and sensors to help paralyzed patients communicate