Events
Design Expo Showcases Student Work
Projects and portfolios from several Segal Design Institute programs were on display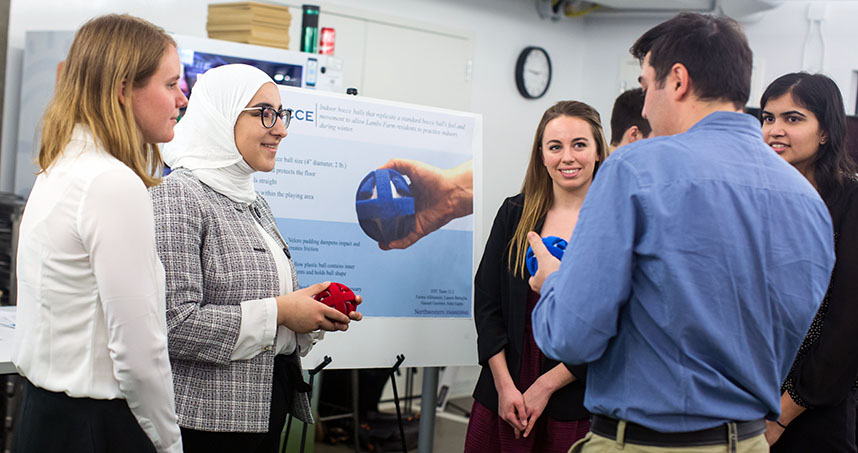 Design was on display this past weekend at the Segal Design Institute's Winter Design Expo. 
Taking place Friday, March 10 and Saturday, March 11 in The Garage, the annual showcase featured portfolios and projects by undergraduate and graduate students from several of Segal's programs, including the Segal Design Certificate program, Manufacturing and Design Engineering, Engineering Design and Innovation, Design Thinking and Communication (DTC), and Design for America.
Pratap Jayaram, a senior who designed his own major called "Human-Centered Design" at Northwestern Engineering while simultaneously majoring in theatre at Northwestern's School of Communication, presented his portfolio at the event.
"That's the Northwestern vibe," Jayaram said of his hybrid studies. "My first quarter, I took DTC and a performance-based class and loved both."
Through his classes in the MaDE program and a summer internship with the Delta Lab, an interdisciplinary research lab and design studio at Northwestern, Jayaram found that theater and design had more in common that he initially thought.
"In Delta Lab, I developed brainstorming games that were grounded in improv activities. And, the process for scenic design is shockingly similar to the process for any other design project that you'd do within Segal Design Institute or McCormick," Jayaram said. "The whole idea of ideating, testing, building, iterating follows the same trajectory."
Anna Petersen, a senior majoring in mechanical engineering expressed an appreciation for the ambiguity that is inherent in the design process. Petersen presented a project, in which she helped design a storage compartment for wheelchair users.
"It was a very enlightening discovery for all of us to see there were so many different ways that you can design a solution. There wasn't one right answer," said Petersen, who is a member of Northwestern's softball team. Petersen will also receive a design certificate from the Segal Design Institute when she graduates in June before joining the defense technology industry.