Honors and Awards
Joseph Schofer Receives S.S. Steinberg Award
Award honors Schofer for his remarkable contributions to transportation education
Joseph L. Schofer, associate dean of faculty affairs and professor of civil and environmental engineering at Northwestern's McCormick School of Engineering, will receive the S.S. Steinberg Award from the American Road and Transportation Builders Association (ARTBA).
Named after the founding president of ARTBA's research and education division, the S.S. Steinberg Award each year recognizes an individual who has made remarkable contributions to transportation education. Schofer will officially receive the award this weekend at the Council of University Transportation Centers' 2017 awards banquet in Washington, D.C.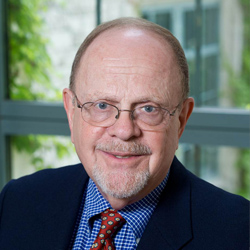 Schofer has taught for five decades, preparing Northwestern's transportation students at the bachelor, master's, and doctorate levels. His students have built careers in transportation planning and operations at some of the largest transit and transportation agencies in the country. Many of his former students have entered academia to teach the next generation of transportation professionals.
"The McCormick mantra says it all: We are only as good as our students," Schofer said. "I am most rewarded by the success of my students as creative engineers, planners, and managers who make transportation better for their customers. I am honored to have been selected for this award but watching the achievements of my former students will always be the most important award of my career."
Schofer's teachings extend beyond the classroom, bringing infrastructure design, operations, and policies to wider audiences through public lectures, alumni tours, and his long-running podcast, The Infrastructure Show.
Active in the Transportation Research Board (TRB) for more than 40 years, Schofer leads its transportation data programs, planning, policy analysis, and decision making. He has chaired three major policy studies, six TRB conferences, two task forces, and the data and information system section. A national associate in the National Academies and a life member of the American Society of Civil Engineers, Schofer has received several TRB awards and the Institute of Transportation Engineer's Wilbur S. Smith Distinguished Educator Award.