Events
Graduate Students Celebrate Commencement
The December 10 ceremony featured remarks by Dennis Chookaszian
Northwestern University's McCormick School of Engineering and Applied Science celebrated the graduation of its accomplished master's and PhD students on Saturday, December 10.
Held in the Technological Institute's Ryan Auditorium, the event marked the third time Northwestern Engineering has conducted a ceremony for its December graduates, recognizing 212 master's students and 9 PhD students.
"Both our PhD and master's students play a critical role at McCormick," said Dean Julio M. Ottino. "As graduate students, you not only challenged yourself to learn new things and create new knowledge, but you served as role models and mentors for other graduate students and our undergraduate students. You connected with colleagues across departments and schools, and you enriched many of our programs by bringing your unique perspectives."
The ceremony featured Dennis Chookaszian ('65), former chairman and CEO of CNA Insurance Company. Chookaszian discussed the many ways that society has changed since he graduated from Northwestern, specifically noting the expansion and ease of communication and how technology has introduced new ethical issues.
"The dilemma is that you have these changing social mores, and you have to make many ethical decisions in your day-to-day activities," he said.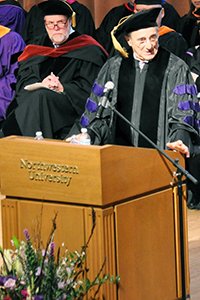 Chookaszian closed by summing up three keys to success: technical competency, attitude, and networking. He said that most successful people in his life share those three characteristics. He added that no matter what you do, you should strive to be technically competent. If you are excellent at what you do, then you will stand out from the crowd. Attitude is also important because if you are kind and fun, then people will naturally want to be in your presence. Finally, networking is important because it can help you build mutually beneficial relationships.
"No matter what you do, you need to continue to expand your network and be in contact with as many people as you can," Chookaszian said. "It opens up opportunities and allows people to understand what you can do."
In parting, Ottino congratulated the graduates and urged them to maintain connections to Northwestern Engineering.
"Today marks an important day in your careers and in your life," he said. "Your degree is a significant accomplishment, and I hope that the skills that you have learned here have prepared you for a lifetime of impact. Although your careers may take you far from campus, we hope to see and hear from you on a frequent basis. As alumni, you are the source of our value; we are only as good as the people we produce. I am eager to see what you will accomplish."