Events
Hasan Elahi Examines the Intersection of Technology and Art
Elahi's Tracking Transience project examines the relationship between location, repetition, technology, and surveillance in today's media age
In Aspen, Colorado in 1978, a group of MIT researchers affixed a stop-frame camera atop a car and drove it throughout the popular ski resort town. Combining the footage with a computer, laserdisc player, and touchscreen display, the team built an interactive playback system that allowed users to take a virtual tour through the picturesque city.
At the time, the project—known as the Aspen Movie Map—was heralded as an innovative work of interactive art. Today, it would likely be seen as a precursor to an everyday tool that many use but few consider artistic: Google Street View.
"Artists can nudge the system to get us to think a little differently about how to interact with society," said Hasan Elahi.
Elahi, associate professor of art at the University of Maryland, discussed the intersection of technology and art during a joint lecture hosted by Northwestern Engineering and Northwestern's Mary & Leigh Block Museum of Art. The talk took place October 31 in the Ford Motor Company Engineering Design Center.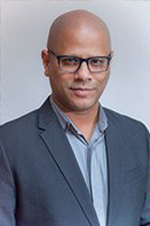 Elahi's work focuses on the relationship between location, repetition, technology, and surveillance in today's media age. His most famous project, Tracking Transience, arose following a thorough six-month FBI investigation when he was erroneously added to a United States terrorist watch list.
While he was ultimately cleared of any wrongdoing, Elahi sought to avoid a similar occurrence from happening in the future. He began to report his activity directly to the FBI agent who handled his case. As he chronicled the comprehensive details of his relatively mundane travels, he felt the need to expand his audience.
"I started thinking, 'Why is this agent special? Why is it only him that gets to know what I'm doing?'" Elahi said.
In 2005, Elahi began Tracking Transience, placing his entire life online for public consumption, from financial records to transportation logs to a tracker noting his location at a given time. Nearly 85,000 photos to date have been posted to his website, chronicling the airports he's traveled through, meals he's prepared at home, hotels where he's stayed, and everything in-between.
After more than a decade, Elahi has witnessed Tracking Transience become his own Aspen Movie Map.
"A few years ago, this project sounded like an artist's crazy idea," Elahi said. "Now there are 1.6 billion people on Facebook doing the same thing, creating digital databases of themselves. You're all doing this, too."
While Elahi is unsure whether his digital timestamping could still be considered art, he recognizes how the normalization of self-surveillance could impact the future of intelligence.
"On an individual level, what I've done is symbolic," Elahi said. "But if 300 million or 1.6 billion people started to do this at this level of detail, it would force the entire restructuring of the intelligence system. It's no longer about just having the information. It's about analyzing that information."
At the conclusion of his talk, Elahi explained what he hopes people will learn from Tracking Transience.
"As artists, we try to create experiences," Elahi said. "The end result of Tracking Transience is the experience of going through the information and realizing the reversal that's taken place. By telling you everything, I'm really telling you nothing."