Honors and Awards
PhD Team Wins BASF Science Competition
A Northwestern Engineering and Weinberg College of Arts and Sciences team won the nationwide competition on August 4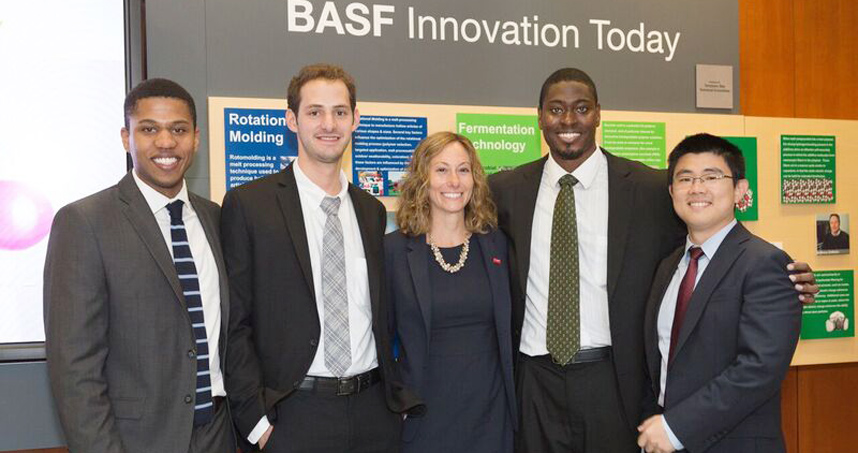 A team of Northwestern Engineering and Weinberg College of Arts and Sciences PhD students has won a nationwide science competition put on by the chemical company BASF that challenges young academic researchers to answer a major global challenge through creativity and problem solving. 
This year's competition asked teams to develop a synthetic fluid that meets the performance requirements for high-efficiency vehicles. Identifying innovative chemistries to improve the performance of base oil in synthetic lubricants could reduce waste, prolong the materials' length of use, and support the development of more fuel-efficient vehicles.
Three mechanical engineering PhD students — Blake Johnson, Jie Lu, and David Pickens — along with chemistry PhD student Michael Desanker comprised Northwestern's winning team. Professors Q. Jane Wang, Tobin Marks, and Yip-Wah Chung served as the group's scientific advisers.
The team's solution centered on attaching borate ester compounds to the double-bonded area of poly­alpha­olefin (PAO) oligomers found in a synthetic lubricant's base oil. The treated PAO oligomers were then combined with untreated PAO oligomers and additives to form a mixture that is optimized for lubricant-based uses.
"The technology could enhance the solubility of many additives, including polar viscosity modifiers, which are hard to dissolve," said Jie Lu. "By controlling the ratio of functionalized PAO oligomers and traditional PAO oligomers in the solution, the property of the base oil can be easily tuned for different applications."
After being named a finalist for the competition in June, the group spent two months crafting and refining a final presentation of their work, collaborating with a BASF communications coach to develop the best approach to present their technology. On August 4, they made their pitch to a panel of BASF executives and researchers at the company's research and development center in Tarrytown, New York. The first place prize included a $1,000 cash award for each student.
"It felt great to hear BASF announce Northwestern as the competition winners," said David Pickens. He added that the group made an effort to keep their final presentation focused. "The experience working with a BASF communication coach taught us to craft presentation materials that were simple and to-the-point. We tailored our pitch to the judging panel in an easy to understand way that didn't lose its effectiveness or importance."