Education
Farley Center Teaches African Leaders Entrepreneurship Skills
Six fellows received competitive USDAF grants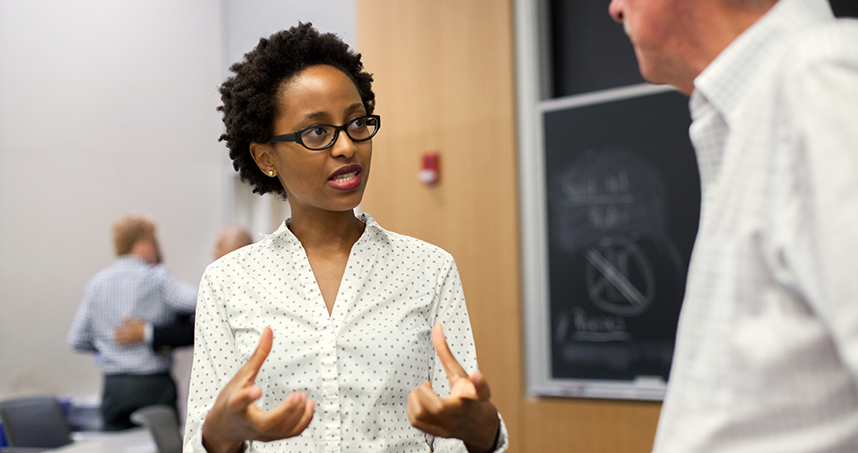 For most people, peanut butter is a sticky treat paired with chocolate or jam. Zimbabwe-native Nobukhosi Ndlova, however, sees peanut butter as a way to empower women, fight hunger and poverty, and spread comfort and joy.
"Nothing will make you feel better than these two things," she said, "a spoon and a jar of peanut butter."
With a goal of becoming the "Peanut Butter Queen of Zimbabwe," Ndlova joined 24 other fellows for six weeks at Northwestern as a part of the Young African Leadership Initiative (YALI). Through the program, she aims to learn the entrepreneurship skills needed to grow her business, Nutrie Foods, which finances peanut seeds for rural female farmers who make natural, organic peanut butter.
Started in 2013, YALI is part of a long-term effort to support and develop young African leaders and strengthen partnerships between the United States and Africa. Northwestern Engineering's Farley Center for Entrepreneurship and Innovation and the University's Program of African Studies host 25 fellows each year for a six-week program in business, leadership, and entrepreneurship.
The Farley Center classes expose the fellows to all aspects of the entrepreneurial process, starting with developing an idea to launching a business. Students learn how to think through challenges, manage finances, market their products, garner funding, and nurture partner relationships. In turn, Farley Center faculty also receive a global perspective on entrepreneurship, learning from the fellows about the similarities, differences, and challenges of launching businesses in Africa.
"We try to give them a holistic understanding of entrepreneurship," said Michael Marasco, Farley Center director. "We don't teach from a US perspective because that's not relevant. We teach things that the fellows can leverage back in their own countries."
While Marasco is the program's academic director, adjunct lecturer Verinder Syal serves as program's lead faculty member and heart of the program. An entrepreneur, author, consultant, and retired business executive, Syal teaches most of the classes, lending his own experience and passion for entrepreneurship to his lectures. Marasco notes that Syal is more than just a teacher — he's also an adviser and coach. He coaches the fellows before they deliver presentations and encourages the them to get to know and learn from each other. 
"Verinder aims to deliver a life-changing experience," Marasco said. "I would say he accomplishes that. He really goes out of his way to get to know all of his students."
Through a competitive application process, 1,000 YALI fellows are selected each year, with 25 coming to Northwestern. All are seasoned entrepreneurs with their own businesses back home. At the end of the program, they pitch their detailed business plans to a panel of judges. Some receive funding from the Shaw family and others receive grants from the US African Development Foundation (USDAF).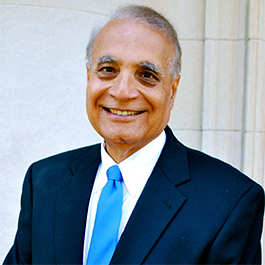 This year, six YALI fellows at Northwestern received USDAF grants — the highest number of any school participating in the program. Ndlova is among the recipients. In addition to financing peanut seeds, her business trains female farmers to grow peanuts with the maximum yield. She estimates that her plan could potentially double the production of peanuts to feed 1,360 additional people.
"Zimbabwe used to be the breadbasket of Africa," Ndlova said. "Now there is nothing in the basket."
Nuru Muro from Tanzania also received a USDAF grant for her online platform kivuko.com, a local e-commerce marketplace. Established six years ago, the site connects vendors with customers, facilitating fast, reliable shipping and safe payment.
Most fellows hope to follow in the footsteps of Jean Bosco Nzeyimana, who came to Northwestern from Rwanda in 2014 to attend the YALI program. Nzeyimana received one of the coveted USDAF grants, helping to fund his company Habona Limited, which turns biomass and waste into eco-friendly fuels for rural Africa. Last month, Nzeyimana participated in a panel discussion with President Barack Obama and Facebook-founder Mark Zuckerberg at the Global Entrepreneurship Summit.
"The investment that we're making in the program will have impact for many years to come," Marasco said. "We're not just teaching the underlying concepts of entrepreneurship, we're empowering our fellows to think big."