Events
Northwestern Engineering Undergraduates Celebrate 158th Commencement
Dean Julio M. Ottino and alumna Chelsea Stoner delivered remarks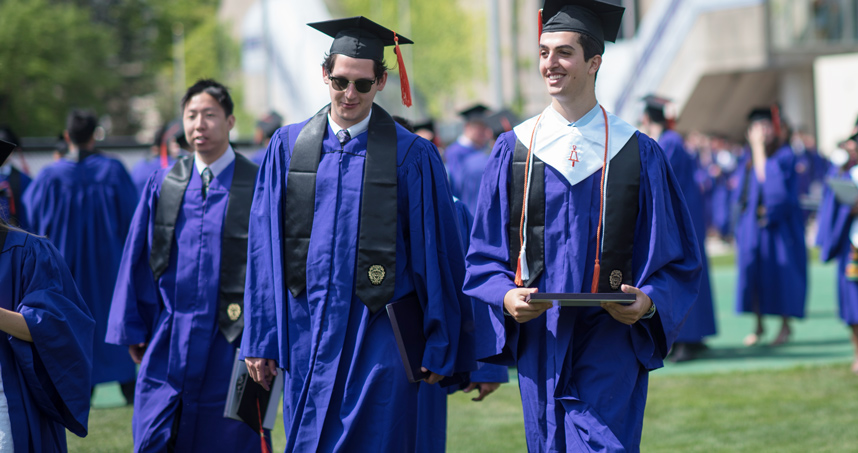 Northwestern University's McCormick School of Engineering celebrated the graduation of its undergraduate Class of 2016 on June 17 and 18 as part of the University's 158th Commencement.
Graduates from across campus gathered at Ryan Field on Friday morning for the main Commencement exercises, which featured a speech by comedian and Northwestern School of Communication alumnus Seth Myers ('96), who spoke to graduates about the importance of maintaining strong ties to their friends and family as they embark on their careers. 

READ MORE ABOUT NORTHWESTERN'S 2016 COMMENCEMENT.
Northwestern Engineering continued the undergraduate celebrations Saturday morning with its Undergraduate Convocation held in the Welsh-Ryan Arena. Dean Julio M. Ottino told the graduates that while they faced noteworthy challenges throughout their tenure, they prospered through perseverance.
"You showed us that you are resilient," Ottino said. "When problems were vague and poorly understood, you worked together to find creative solutions. When faced with challenges, you overcame them by looking at them from a new angle. Most importantly, through your struggles you showed that you have grit – which is one of the most important qualities that you can have going forward."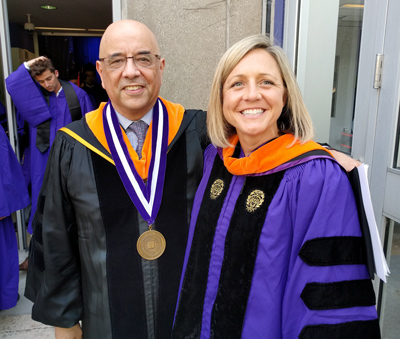 Chelsea Stoner ('96), general partner at the global technology-focused investment firm Battery Ventures, served as the convocation's keynote speaker. She urged graduates to forge their own path during their careers. While it is natural to want to assimilate into the status quo to avoid the "fear of missing out," Stoner said graduates should feel comfortable acting against what is popular and established. 
"Be different, and be proud of it," she said. "True innovation and change doesn't happen if we all follow the crowd. Being different is what creates greatness. It's true in science, investing, and life in general. If everyone followed the herd, we'd never leap forward."
Stoner also relayed the importance for graduates to demonstrate their "grit" in the face of opposition they may experience during their careers. She recounted the pushback she received to becoming the first woman to serve as partner at Battery Ventures. Instead of feeling discouraged during circumstances like these, graduates should feel emboldened to take on the challenges others don't think they can accomplish, she said.
"While early in your career it's important to be experimental, once you pick a direction, know it's going to be hard and a lot of work," Stoner said. "In your travels, I encourage you to cultivate your grit and own your grit. Never give up on yourself. Focus, work hard, and be so good, they can't ignore you."

WATCH CHELSEA STONER'S CONVOCATION ADDRESS.
At the ceremony, three teams of students were awarded the Mickelson Prize. The competition recognizes the seniors who submit the best insightful, innovative, and/or creative project.
Winning the prize were:
First prize: Chelsea Fries, Hannah Jones, Rachel Weathered, and Janine Wilson for "METIC: Microfluidic Embedded Tissue Culture. A platform for the high throughput study of female-specific tissue interactions."
Second prize: Neil Dalvie for "Engineering Novel Biosensors"
Third prize: Anlil Brikha and Jack Goergen for "Improved Treatment for Burn Injury in Nigeria: Indicator for Imminent Strikethrough"
Four additional undergraduate prizes were awarded. The Ovid W. Eshbach Award was presented to Evan Rosati; the McCormick Alumni Award was presented to Kathleen Zhou; the Harold B. Gotaas Undergraduate Research Award was presented to Kevin Chen; and the Co-op of the Year Award was presented to Magdalena Olewinska.