Events
Northwestern Engineering Graduate Students Celebrate 158th Commencement
Dean Julio M. Ottino, Mark Hersam, Deepak Ahuja, and Hugh Ekberg gave remarks
Northwestern University's McCormick School of Engineering celebrated the graduation of hundreds of successful master's and PhD students on June 17 and 18 as part of the University's 158th Commencement. Three ceremonies in the Ryan Family Auditorium in the Technological Institute recognized 615 graduating master's students and 174 PhDs.
Dean Julio M. Ottino started off the ceremonies by commending graduates for their determination and hard work, as well as by thanking friends and family who shared in the sacrifices and accomplishments of graduate study. He told the graduates that their impact was felt beyond what they produced in the classroom, and they are now prepared to succeed in the world.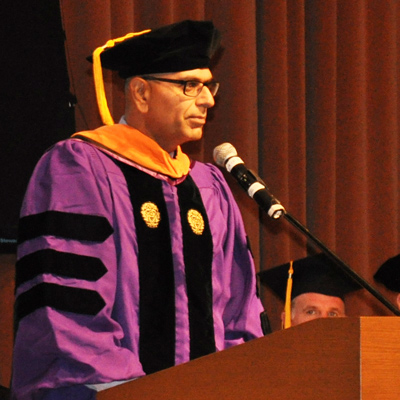 "You learned to do more than just make things, but to understand the implications of what you do and how to connect them to the big picture," Ottino said. "You showed us that you are always ready to learn more, to tackle difficult problems, and to ultimately find success. You will take that with you wherever you go."
Northwestern Engineering's Master's Degree Recognition Ceremony featured Deepak Ahuja (MS '87), former chief financial officer for Tesla Motors and current member of the board of directors at FireEye, Inc., a leading company in cyber security. He told graduates about the importance of forging a path in their careers that takes them out of their comfort zone, as that often leads to the most rewarding experiences and greatest successes. 
"Many seemingly insurmountable hurdles will come your way on this path," Ahuja said. "You may not always succeed, but it will be your determination and the ability to have great people around you that will influence your success."
WATCH DEEPAK AHUJA'S MASTER'S DEGREE RECOGNITION CEREMONY ADDRESS.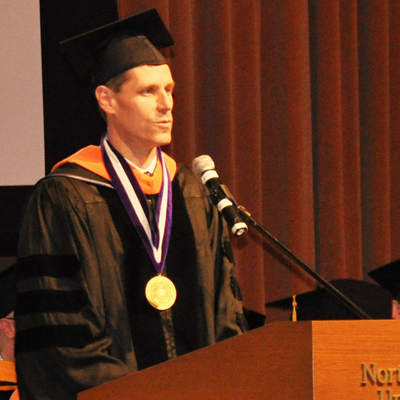 Mark Hersam, the Walter P. Murphy Professor of Materials Science and Engineering and professor of chemistry and medicine at Northwestern, spoke to graduates at the PhD Hooding Ceremony. He explained that the rapid expansion of available data and knowledge has made the modern PhD a valuable commodity. Not only do PhD students possess a specific and deep academic expertise, they increasingly collaborate across disciplines to tackle today's biggest challenges.
"The most interesting problems at the frontiers of engineering are at the boundaries of multiple fields of study," Hersam said. "Therefore the modern PhD must not only be a domain expert but also able to work effectively with others whose expertise is radically different from their own."
WATCH MARK HERSAM'S PHD HOODING CEREMONY ADDRESS.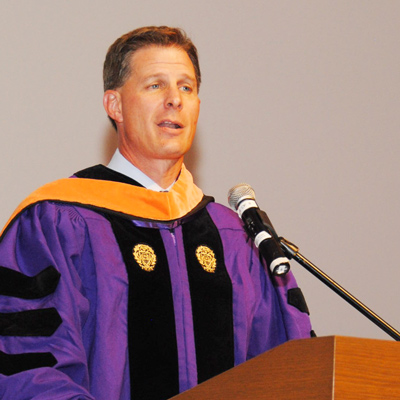 The following day, graduates of Northwestern Engineering's professional master's programs gathered for an address delivered by Hugh Ekberg (MMM '94), president of Kitchen & Bath Americas for Kohler Company. He offered his blueprint to live an "extraordinary life," which included an emphasis on producing excellence. 
"Trying hard and giving your best is honorable, expected, and always appreciated, but it is not extraordinary," Ekberg said. "Working hard and delivering excellent results is where you convert the potential energy — created by taking risks — into successes. There is no silver bullet or easy road to an extraordinary life, and luck is not a strategy or plan. You have to make it happen."
WATCH HUGH EKBERG'S PROFESSIONAL MASTER'S GRADUATION ADDRESS.