Honors and Awards
Rick Marzec Named McCormick STAR
Marzec was recognized with the second annual staff award
Rick Marzec, senior user support specialist in the Department of Mechanical Engineering, was recognized with the second annual STAR Award at a staff recognition ceremony. The May 5 event took place in Tech's Cohen Commons.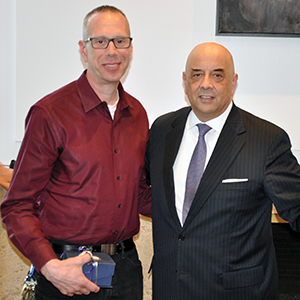 The STAR Award, which stands for Staff Team Appreciation and Recognition, is an annual honor that recognizes a staff member who goes above and beyond regular job responsibilities.
Marzec was nominated for his responsiveness, depth of knowledge, and positive attitude.
"The department considers him as an 'invisible hero,'" the nomination stated. "Rick inspires staff and faculty to give 100 percent and to be great at every part of our jobs. He leads by example."
Winners of the STAR Award are nominated by fellow staff and faculty members, and a selection committee recommends a finalist to the dean. Other finalists were Jennie Edelstein, program assistant 2 in the Department of Civil and Environmental Engineering; Kim Hoffman, associate director of the Segal Design Institute; and Jo Ann Yoblanka, program assistant in the Department of Industrial Engineering and Management Sciences.