Honors and Awards
Gerber, Gatchell Honored with 2016 University Teaching Awards
Awards celebrate excellence, innovation, and influence in undergraduate teaching
Northwestern Engineering's Elizabeth M. Gerber and David W. Gatchell are among the five faculty members who will receive 2016 University Teaching Awards later this month. The awards honor outstanding performance and dedication to undergraduate education at Northwestern.
Gerber will receive a Charles Deering McCormick Professor of Teaching Excellence award. Gatchell will receive the Charles Deering McCormick Distinguished Clinical Professor award.
Recipients will collect their awards at an installation ceremony at 4:30 p.m., Thursday, May 19 in Scott Hall's Guild Lounge. All members of the Northwestern community are invited to attend the ceremony and following reception.
The Charles Deering McCormick Professorship, Lectureship, and Clinical Professorship Awards have a three-year term and for each year of the award term, the recipients receive $7,000 as a salary supplement and $3,000 for professional development. A one-time $3,000 award also is given to the recipient's home department to support activities that enhance undergraduate education.
The process for selecting these award recipients begins with nominations from the deans of the schools or colleges in which the recipients have principal appointments. The selection committee, chaired by Provost Daniel Linzer and including senior faculty members, University administrators, and a student representative, then selects the recipients from a diverse and strong pool of candidates.
An associate professor of mechanical engineering, Gerber is a campus leader in design education, utilizing project-based learning and interdisciplinary collaborations to impart real-world design and innovation skills to her students. She is known to adapt and personalize her course based on live feedback from her students. She also places a high priority on mentoring her students. Many of them have contributed to peer-reviewed papers in the design field.
In 2009, Gerber founded the undergraduate co-curricular initiative Design for America (DFA) to provide undergraduate students with the opportunity to partner with community businesses and design products that will have a real societal impact. The program has been highly influential on other design engineering programs, and DFA can now be found at nearly 40 institutions across the United States. One former student said, "Through Professor Gerber's teachings, which trickle down to every level of Design for America, I now feel that I have the power to address some of the biggest issues that affect society today."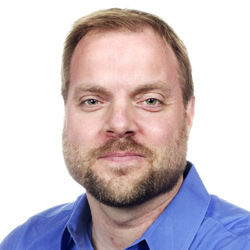 Gatchell is a clinical associate professor in the Segal Design Institute and director of the Manufacturing and Design Engineering (MaDE) program, where he advises students on their class choices, internship opportunities, extra-curricular activities and post-undergraduate aspirations. He is driven to help all of his students identify their passions and realize their potential by understanding their intellectual, social and emotional needs.
In teaching, Gatchell offers what one student described as "an impressively personal education to all of his students" and values the ability to look at a problem from multiple perspectives, which he encourages his students to do as well. His students note that through his teaching they become skilled in learning from obstacles and mistakes, which keeps them thinking critically. As one student described, "He has an original way of looking at things as opportunities instead of dead ends that is inspiring as a student when classes or team relationships become difficult."
Other recipients of this year's teaching awards are: Daniel J. O'Keefe, the Owen L. Coon Professor in the School of Communication; Wendy Lee Wall, the Avalon Foundation Professor in the Humanities in the Weinberg College of Arts and Sciences; and Erik Gernard, a senior lecturer in the School of Communication.