Events
Autonomous Robot 'Subsequentis' Wins 2016 Design Competition
'The Police' received the Myke Minbiole Elegant Engineering Award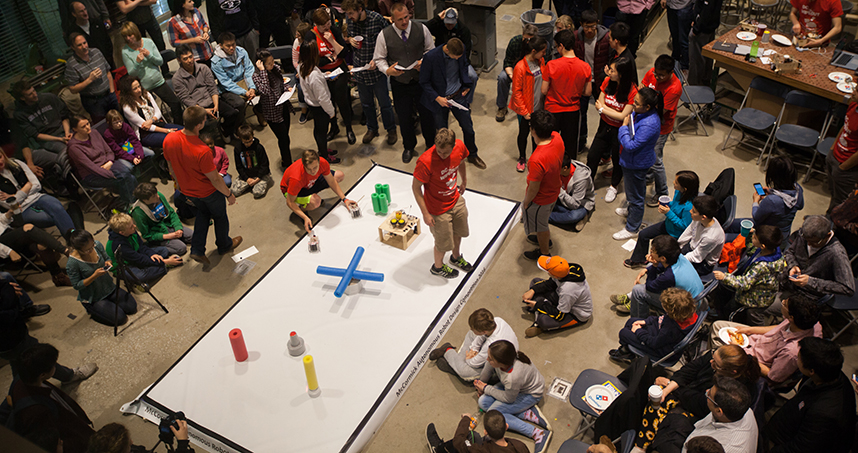 A student-designed, autonomous robot named "Subsequentis" wiped out the competition to win Northwestern's 25th annual Design Competition. In a feat of speed and agility, Subsequentis bested second-place team Excalibur for the $1,000 award.
"Robot Wipeout" took place Saturday, May 14 at the Ford Motor Company Engineering Design Center. Inspired by the TV game show "Wipeout," the competition challenged robots to dodge obstacles while trying to knock plastic cups off each other.
Teams of undergraduates from a variety of engineering fields spent five months designing, building, and programming their robots. Some teams fielded classic robot designs with lasers and ultrasonic sensors; others deployed Nerf darts and rubber-band shooters.
The top-scoring teams were:
1st place: Team Subsequentis, with team members Graham Bullmore, Matt Micucci, Heath Reineke, and Stephen Shull
2nd place: Team Excalibur, with team members Hyungsoon Kim, Stephan Kim, Yoosung Kim, and Sung Hyuk Park
3rd place: Snuggly Bunnies, with team members Craig Herdle, Vince Martinez, Sam Schlesinger, and Curtis Wiese 
A team called "The Police" received the $500 Myke Minbiole Elegant Engineering Award. The award is named for McCormick alumnus and 2001 Design Competition winner Minbiole, who worked as an engineer before being killed in a hit-and-run collision in 2007. Members of The Police are Can Aygen, Kegan Leizerman, Cameron Tehranchi, and Bryanna Yeh.