Announcements
New Funds Are Available to Northwestern Entrepreneurs
N.XT Fund and NUseeds Fund will begin accepting first-round applications
Northwestern University's entrepreneurial culture continues to grow and thrive, and now aspiring entrepreneurs and innovators will benefit from two new commercialization resources.
The $10 million N.XT Fund for faculty and students will support early-stage innovations based on Northwestern technologies (patented by the University) that are too advanced for federal funding but too early for private investment. Applications for the first funding cycle are due April 21.
The $4 million NUseeds Fund will support student startups with or without Northwestern-owned technologies. The goal is to accelerate the successful launch of innovations from Northwestern by financing the most promising early-stage ventures. NUseeds is being funded by philanthropic gifts as part of We Will. The Campaign for Northwestern. The first funding cycle for NUseeds is expected to open April 15.
"Northwestern students are wonderfully creative, and we want to ensure the best ideas and ventures are supported during their early development," said Chris Galvin, a University trustee and member of the Board of Trustees' Innovation and Entrepreneurship Committee. "Success at Northwestern ripples outward, impacting society and the economy while also strengthening our ties with the local entrepreneurial community."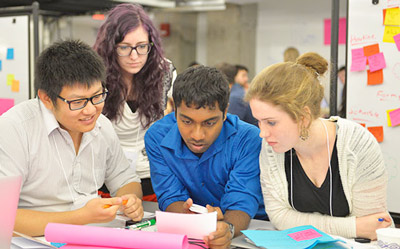 N.XT and NUseeds build upon The Garage, an innovation space established last year at Northwestern, as well as the robust entrepreneurial curricula from the Farley Center for Entrepreneurship and Innovation (McCormick School of Engineering), the Larry and Carol Levy Institute for Entrepreneurial Practice (Kellogg School of Management) and the Donald Pritzker Entrepreneurship Law Center (Pritzker School of Law).
All of these programs work in concert to support a vibrant entrepreneurial ecosystem at Northwestern and in the community at large.
"Northwestern has developed a robust network of resources to help the entrepreneurially minded, from an undergraduate student developing her first venture to a leading faculty member looking to launch a new product that will improve people's lives," said J.B. Pritzker, Northwestern alumnus and trustee. "This support for innovation at all levels will lead to the creation of stronger companies coming out of Northwestern, participating in Chicago-based business incubators MATTER and 1871, and contributing to Chicago's economic development."
Pritzker is co-founder and managing partner of Pritzker Group. He is a leader in the Chicago entrepreneurship community and has been a key driver in growing and strengthening the entrepreneurship, innovation and technology sectors. His venture capital firm is one of the largest and most successful in the nation.
"N.XT and NUseeds are part of Northwestern's broader commitment to propel innovations to the public," said Alicia Löffler, executive director of Northwestern's Innovation and New Ventures Office (INVO). "These new funds will provide critical resources for promising technologies created by our faculty and students."
N.XT Fund
The goal of the fund is to support faculty and student entrepreneurs using Northwestern-owned technologies so they can propel innovations to the next stage of commercial development. Selected by external experts and investors, awardees will use the funds to achieve clear milestones, such as product validation, prototyping and market identification, within a year. They also will receive coaching from external experts.
Applications for the first funding cycle are due April 21. A group of finalists will be selected, and each will pitch their Northwestern innovation June 2. The N.XT awards will be announced after that date. Kellogg students trained by external venture capitalists, called N.XT Fund Associates, will do the due diligence work required to invest in these innovations. 
Individual awards will range between $50,000 and $200,000. N.XT applications will be accepted year-round, although awards will only be made twice a year. 
For more information, contact Nicholas Maull, assistant director of new ventures at INVO.
NUseeds Fund
The NUseeds Fund is a venture capital fund for Northwestern students that will supply initial resources needed to build a commercial entity. Startups are not required to have Northwestern-owned technologies. NUseeds provides seed investments to accelerate the successful launch of innovations from Northwestern students by financing the most promising early-stage ventures.
To be eligible, student ventures are required to have participated in The Garage Residency Program and to have received funding from an institutional investment partner and/or a traditional accelerator program.
Funding is expected to open April 15. Individual awards will range between $10,000 and $100,000. An external committee of investors will vet applications. Funded teams will receive coaching from The Garage's network of external alumni and community experts.
For more information or to contribute to the fund, contact Melissa Crounse, executive director of The Garage.