Education
NUvention Students Pitch Medical Technologies
On March 9, students pitched their ideas and business plans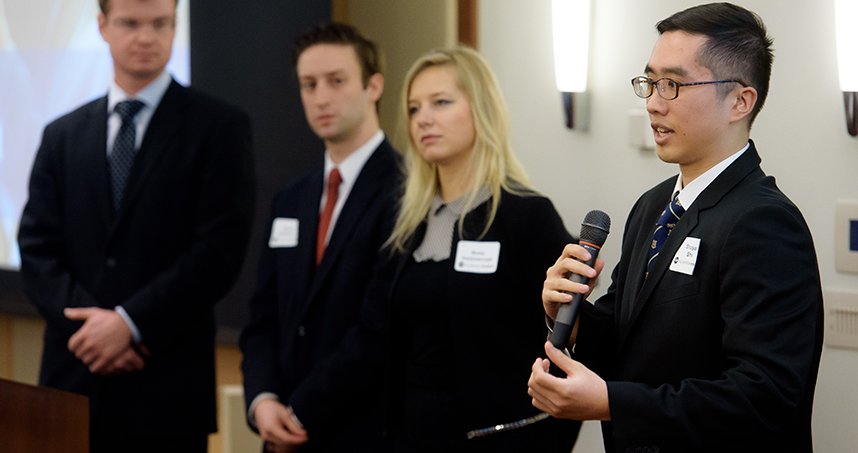 It was a mild summer day when James Stephens' mother collapsed in the bleachers at Wrigley Field. She was otherwise in great health, so the event was unexpected and jarring.
"When we found out that it happened because she was dehydrated, we weren't surprised," said Stephens, a student in Northwestern's Pritzker School of Law. "The only thing she had to drink that day was coffee."
Dehydration is one of the top ten reasons for hospitalization, and it's particularly dangerous for the elderly. As people age, they lose their ability to detect thirst. And seemingly benign symptoms of mild dehydration, such as headaches and dizziness, can cause potentially fatal falls.
That's why Stephens and his team developed HydroTrack, a new way to measure dehydration in the elderly. HydroTrack was one of the 10 new, student-created medical technologies introduced at the final presentations of NUvention: Medical, a two-quarter course that challenges students to collaborate across disciplines to design, plan, and launch medicine-based businesses.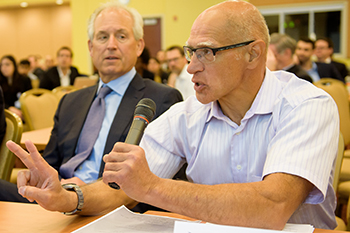 On Wednesday, March 9, members of the class pitched their final products to an audience of faculty, peers, guests, and members of the NUvention board of advisers.
Widely praised by the audience, HydroTrack is a wearable device that uses safe electrical signals to measure hydration in the body. When a person is dehydrated, the device can buzz or beep to alert its wearer as well as send an alert to the caretaker's phone.
"Nursing homes are generally understaffed," said Heath Ingram, another law student and member of the HydroTrack team. "This tool allows staff to safely and easily monitor hydration from a distance."
Another NUvention: Medical project, called MatuBand, is an adjustable band surgically embedded under the skin that allows doctors to control a vein's blood flow with a magnetic mechanism. Designed for dialysis patients, the device can increase blood flow to remove toxins from the body and then slow blood flow after dialysis to prevent complications.
"Bleeding can be like a water hose, where doctors have no control over the flow," said Delfina Sitar, a student in Northwestern Engineering's Master of Science in Engineering Design and Innovation program. "We want to give them a faucet and help ease the lives of patients."
Other NUvention: Medical projects include:
CustomCradle: a customized immobilizer for radiation patients
GeneConnect: a video-based platform that allows genetic clinicians to counsel patients from afar
IntelliCare: a digital treatment program for depression and anxiety
IntuiTouch: steerable guide wires for the rapid, precise treatment of strokes and cerebral aneurysms
MyFriendsDoc: an online platform that helps patients find doctors and refer them to their friends
OxyGenie: an automated device that weans hospital patients off oxygen therapy
Serapis, an app-based game that establishes a baseline for cognitive function
UNATI, a web-based platform that provides affordable home care by leveraging the shared economy
NUvention: Medical is one of several popular entrepreneurship courses offered through the Farley Center for Entrepreneurship and Innovation's NUvention program. Other courses focus on energy, analytics, arts, therapeutics, web and media, and nanotechnology.