Events
NUvention: Energy Students Embrace Clean Tech with Sustainable Startups
Ampér, FerraPower among 10 teams that pitched their clean energy businesses on March 8
For consumers motivated to curb their energy use, determining where to concentrate their efforts can be daunting. Utility bills offer only generalized data and month-to-month usage trends, offering few details and little context about one's habits.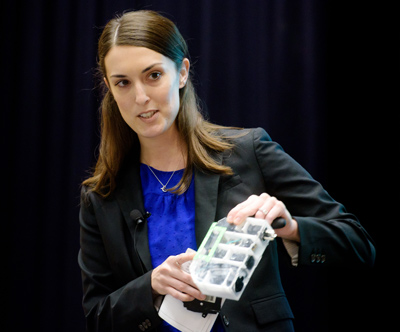 Fortunately, a Northwestern student team is helping bring clarity to home electricity usage with Ampér, a smart circuit breaker that allows consumers to monitor and reduce their energy use on a per-appliance basis. Ampér studies usage patterns and sends customized text messages or push notifications with recommendations on how to reduce usage, from turning off the air-conditioner before leaving the house to powering down an idle computer that's not in use. In addition, the system pinpoints outdated home appliances that could present additional energy savings if replaced.
"Our connected world requires more electricity, and Ampér offers granularity to let consumers know where they are wasting the most energy, said Carolyn Snider, an MBA candidate in the Kellogg School of Management. "The savings earned from following these recommendations end up helping both our wallets and the environment."
Ampér was one of 10 new sustainable energy startups introduced at the final presentations of NUvention: Energy, a winter-quarter course offered through the Farley Center for Entrepreneurship and Innovation and co-sponsored by the Institute for Sustainability and Energy at Northwestern (ISEN). In the course, students work in interdisciplinary teams to develop a product or service in the clean tech industry. On Tuesday, March 8, members of the course "pitched" their startups to an audience of faculty, peers, and members of the NUvention: Energy board of advisers.
Another NUvention: Energy startup, called FerraPower, hopes to combat the reliance on coal-powered plants to provide electricity by developing a zero-carbon energy generation system that runs on metal-based fuels. 
"Incumbent fuels like diesel and natural gas are cheap but leave a large carbon footprint, while fuel cells are cleaner but far more expensive," said Nick Sather, a PhD candidate studying materials science. "Metal-based fuels, like those derived from iron or aluminum, burn just like fossil fuels but without the carbon emissions."
FerraPower's core technology is its metal fuel combustor. Sather explained the heat produced from the combusting metals can be collected and used to power an electric generator on demand, which he believes differentiates the technology from other green energy sources like wind and solar.  
Other projects showcased at the event include:

GreenGrass Solutions: a comprehensive software energy management solution for the indoor cultivation of cannabis

GreenScope: an incentive program that educates electricity consumers about energy use through peer-networked competitions and gamification

iO2: a customizable mask to help people living in high-polluted areas breathe clean air

Kitty Hawk: a small, self-piloting electric air vehicle designed to revolutionize the way people move

LiOnSafe: a lithium-ion battery separator that protects against the dangers of thermal runaway while enabling higher pack energy density

MonSolaire: a crowdfunding platform that makes it easier for investors to participate in residential solar projects

RuNu: a system that recycles the toxic waste produced from stainless steel plants to make cathodes materials for lithium-ion batteries

SmartGen Solutions: an urban-scale cogeneration system that combines heat and power to provide clean, resilient, and cost-saving energy
NUvention is a suite of interdisciplinary courses offered through the Farley Center that exposes students to the entire innovation and entrepreneurial life cycle and helps them understand how innovations can become viable businesses. In addition to NUvention: Energy, specialized course tracks include medical innovation, web + media, and analytics, among others.