Undergraduate
Forum Showcases Student Experiences Abroad
Undergraduate students discuss study-abroad experiences in China, Germany, Brazil, and other countries
When it comes to taking on the world's most pressing problems, Northwestern Engineering students aren't confined to campus — they are increasingly leaving their mark in countries around the world.
With help from Northwestern Engineering's Global McCormick office, students can take advantage of global opportunities that focus on their particular academic interests. Study-abroad possibilities include academic courses abroad, research, internships, or project-based experiences.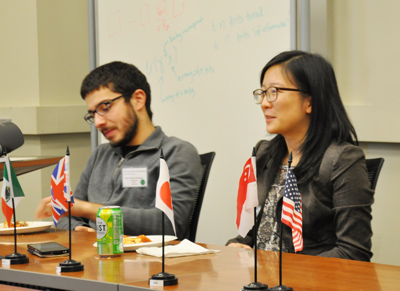 On February 10, students recounted their time abroad in a Global McCormick Student Chat Forum. Six students discussed their work in countries like China, Brazil, Germany, and India, including how they prepared for their time abroad, the benefits of learning from new cultures, and how their experiences built upon their education at Northwestern. 
"The industries engineers enter today are much more globalized than they were 20 or 30 years ago," said Vinayak Dravid, director of Global McCormick and professor of materials science and engineering. "The experiences Northwestern Engineering students enjoy today will encourage the next generation of students to take advantage of our study-abroad opportunities."
Ann Ku, a junior studying industrial engineering, spent her summer interning at Towers Watson, a human resources consulting firm based in Taiwan. Working with the firm's global data services team, Ku used analytics and compensation data to develop reports for the firm's clients that would help better forecast their compensation plans in 2016. 
"I worked in teams with people from different cultures who not only spoke different languages, but also had different styles of working," said Ku. "It was valuable to learn from those perspectives." 
Kenneth Hua, a senior BS/MS student studying electrical engineering and materials science, traveled to Leipzig, Germany as part of the DAAD-Rise program to conduct research at the Leibniz Institute of Surface Modification. Hua spent 10 weeks growing iron-palladium thin films, a ferromagnetic alloy. 
While Hua had conducted research in labs while attending Northwestern, he said his time in Leipzig afforded him the chance to focus on his research in a way he couldn't back home.
"It was helpful to devote myself to lab work for 10 weeks," Hua said. "I conducted longer experiments, which produced more consistent results with fewer defects."

Other panelists at the forum included:
Robert Cavanaugh, a senior studying materials science, participated in an internship and research in Singapore
Shreya Udani, a sophomore studying biomedical engineering, worked on an academic project in India
Lucia Brunel, a sophomore studying chemical and biological engineering, completed research in Italy 
Ryan Simpson, a senior studying mechanical engineering, took part in study abroad in Brazil
Resources such as Northwestern's Study Abroad Office and the Office of International Program Development help match students with opportunities abroad, and externships may also be arranged through Northwestern Engineering's Cooperative Engineering Education Program. Other opportunities are available through student organizations.
For more information about study-abroad programs for Northwestern Engineering students, visit the Global McComick website.