Announcements
Morris E. Fine, Materials Science Pioneer, Passes Away
Fine co-founded the world's first department of materials science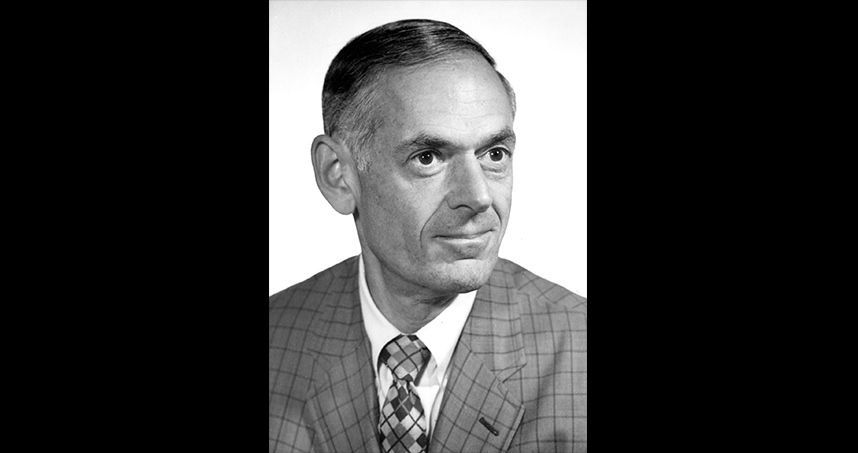 Morris E. Fine, the Walter P. Murphy Professor Emeritus of Materials Science and Engineering and Technological Institute Professor Emeritus of Materials Science and Engineering, passed away Oct. 1 at age 97. 
A member of Northwestern's faculty since 1954, he was well-regarded in the Northwestern Engineering community and in the field of materials science at both the national and international level.
Fine came to Northwestern University with a range of experiences that included work with the Manhattan Project in Chicago and Los Alamos and later with Bell Labs in New Jersey. Along with Northwestern colleague Don Whitmore, Fine co-created the University's Department of Metallurgy and became its first chair. As new faculty members joined, the department broadened its scope to include ceramics, polymers, and electronic materials. The new profile inspired a new name: in 1958, the world's first-ever Department of Materials Science was born.
"Morrie was at the very foundation of the history of the Department of Materials Science and Engineering and a major contributor to the excellent reputation it has today," said Julio M. Ottino, dean of Northwestern's McCormick School of Engineering. "He cofounded a department that was ahead of its time and dedicated his life to its success. Though Morrie retired before many of our current faculty joined Northwestern, he remained an active, engaged, and highly respected member of our community."
A member of the National Academy of Engineering, Fine was dedicated to discovering new materials with the potential of improving society. He always had his eyes toward the future of research and urged cooperation among academia, industry, and government to push the boundaries of science.
Although he received his PhD in metallurgy from the University of Minnesota in 1943, his interests expanded well beyond metals. He explored everything from physical chemistry to mechanical behavior and enjoyed studying alloys, ceramics, and composite materials. His 1964 book Introduction to Phase Transformations in Condensed Systems remains a classic text in the field.
"The scientific principles in his work are still in vogue and now being applied to newer fields, such as bio-nano-materials," said Michael Bedzyk, chair of the Department of Materials Science and Engineering. "Our department, including faculty, students, and alumni, is forever grateful to Morrie for his leadership, inspirational teaching, kindness, and sense of community."
Fine was well known for bridging the divide between basic research and practical, industrial application. In 1965, he embarked on a fundamental study of steels containing copper, which led to the development of improved steels. Instead of waiting for industry to discover his copper-hardened, high-performance steel, called NUCu, he became its advocate and salesman. Fine and colleague Semyon Vaynman joined federal committees to convince standards-setting bodies to accept NUCu and persuaded bridge owners and designers on its advantages. Sold on this exciting new material, the Illinois Department of Transportation used NUCu steel in 2000 to retrofit the Poplar Street Bridge Complex over the Mississippi River in East St. Louis and in 2006 to construct the north Milwaukee Avenue Bridge in Lake Villa.
Although he retired from Northwestern in 1988, Fine continued to be an active member of the community until his final days. He inspired his colleagues by coming to work nearly every day and continuing to write proposals and publish his research, resulting in more than 300 papers to his credit. In 2009, the Department of Materials Science and Engineering created the Morris E. Fine Lecture to celebrate his life and contributions.
Fine will be remembered as an inspiring mentor, selfless collaborator, and valued friend. He was known for his patience, inventive personality, and excitement for new ideas. He enjoyed an extensive list of honors, including the ASM Gold Medal, Mathewson Gold Medal of the Metallurgical Society from the AIME, and election into the American Physical Society, The Minerals, Metals & Materials Society, and American Academy of Arts and Sciences. But for all of his life's successes, he experienced the most pride in his students and the 70 PhD students he advised throughout his career. He was eager to share his knowledge with the next generation of scientists and learn from their experiences and insights.
During a 2012 interview with The Minerals, Metals & Materials Society, Fine said: "Each of the 70 students that I advised through their PhD was a highlight for me."
As per his wishes, Fine will be buried in Worcester, Massachusetts alongside his wife Mildred (Glazer) Fine, who passed away in 2004 His funeral will take place at 1:30 p.m., Wednesday, Oct. 7 at Temple Emanuel Sinai, 661 Salisbury Street, Worcester, Massachusetts.