Undergraduate
Graduate Wins Second Place in ACM Student Research Competition
Leesha Maliakal's winning project explored how targeted cheering could improve a runner's performance
How much do cheering fans really affect the outcome of an athletic event? Can their cheering be leveraged and targeted to make more of a difference?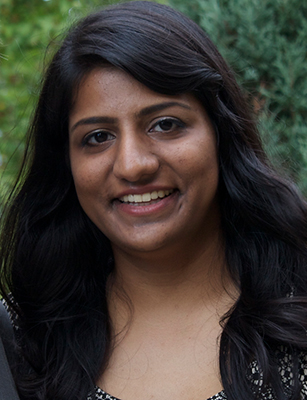 Recent Northwestern Engineering graduate Leesha Maliakal explored these questions and more in her project "CrowdCheer: Situational Crowdsourcing of Motivation for Runners." Her research poster beat out 117 other contenders to take second place in the Association for Computing Machinery (ACM) Student Research Competition, which was held at the Grace Hopper Celebration of Women in Computing last week in Houston.
The conference only accepted 30 poster submissions from a pool of 118 to participate in the competition. Maliakal was one of just nine undergraduates selected to compete and one of four women total selected to deliver a formal presentation in the research competition's final stage.
After graduating last year with a bachelor's in computer science, Maliakal now serves as a research assistant in Northwestern's Delta Lab, an interdisciplinary research lab and design studio aimed at changing the way people work, learn, play, and interact. Delta Lab is directed by Liz Gerber, associate professor of mechanical engineering; Haoqi Zhang, the Allen K. and Johnnie Cordell Breed Junior Professor of Design, and Matt Easterday, assistant professor in Northwestern's School of Education and Social Policy. Maliakal's CrowdCheer project sprung from the Zhang's Social Computing and Crowdsourcing class. She then continued the project in Zhang's undergraduate research group, Design, Technology, Research (DTR).
Maliakal's CrowdCheer project studied the effects of crowd-sourced and targeted motivation for runners in an attempt to understand how to use existing crowds to deliver targeted encouragement and thus improve runners' performances. 
"For the first time, I was able to share my progress with human-computer interaction experts and really delve into my research questions," Maliakal said. "In a field where there is not only gender inequality in the classrooms and job market, but an even larger one in academia, I'm grateful to have shown several undergraduate women from Northwestern's computer science program that research can be inspiring — and even fun."
Designed to bring research and career interests of women in computing to the forefront, the Grace Hopper Celebration is the world's largest technical conference for women in computing. This year, it hosted more than 12,000 attendees from nearly 70 countries, including Australia, Kenya, Tunisia, Japan, and Brazil. Twenty-four Northwestern computer science students attended this year's conference with three contributing to the program. PhD student Robin Brewer hosted a panel discussion, and alumna Irsal Alsanea and undergraduate Safia Abdalla each held round-table talks.