Announcements
Life Trustee, Retired Tribune CEO Stanton R. Cook Dies
Retired Tribune Company Chairman Stanton R. Cook, a life trustee, devoted alumnus and longtime benefactor of Northwestern University, died Thursday (Sept. 3) of natural causes in his Kenilworth home. He was 90.
"Northwestern filled a special place in my father's heart," Cook's daughter, Sarah Shumway (Kellogg MM, 1987), said Friday. "My dad came from a humble background, but he always had a passion for learning. He strongly believed that everyone had a chance to 'get ahead' in life by getting a good education."
Cook's long affiliation with the University went back to his undergraduate days, and he was still an active contributor in 2015. He received a B.S. in mechanical engineering in 1949 from the McCormick School of Engineering and Applied Science.
Earlier this year, Cook and his daughter unveiled a special gift underscoring Cook's passion for good writing and for the University. The Writing Program of the Weinberg College of Arts and Sciences was renamed the Bobbie and Stanton Cook Family Writing Program on May 13 after the Cook family made a significant gift to the program that touches every part of Northwestern.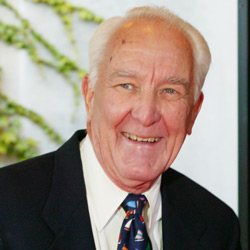 "After spending so much of my life working at a great Chicago newspaper and running a national multimedia company," Cook observed at the time, "the idea of contributing meaningfully to such an outstanding writing program to help train the next generation of writers was very important to me."
Cook was elected to the Northwestern University Board of Trustees in 1987. He became a life trustee in 1996. He was the recipient of the 1987 Alumni Medal. In 1985, he received an Honorary Doctor of Humane Letters degree from Northwestern. He was a member of the Northwestern Leadership Circle and the Robert R. McCormick School of Engineering and Applied Science Advisory Council.
As chairman of Tribune Company, Cook was a pioneer in expanding and diversifying a national media company. He took an underperforming Chicago institution and helped build it to profitability and national prominence.
As the Chicago Tribune reported in his obituary, Cook moved the Tribune from "a closely held, private entity to a publically traded company in 1983." He made the Tribune's broadcasting unit a separate division that became the country's largest operator of independent TV stations. He also oversaw an era when the newspaper's editorial voice broke from its conservative past and the company purchased the Chicago Cubs baseball team. Baseball was one of his passions.
He also served as a director of the Robert R. McCormick-Tribune Foundation, the Associated Press and the Federal Reserve Bank of Chicago. In addition, he was a trustee of the Museum of Science and Industry, the Field Museum and the Shedd Aquarium. He was a past president of the Commercial Club and past president for life of the Economic Club of Chicago.
In 1989, he played a key role in obtaining the $30 million pledge to the Campaign for Engineering and Physical Sciences from the Robert R. McCormick Charitable Trust. The gift was one of the largest made to Northwestern at the time and resulted in the naming of the school of engineering the Robert R. McCormick School of Engineering and Applied Science.
More than a decade ago, Cook also endowed the Wilson-Cook Chair in Engineering Design at the McCormick School.
Shumway said her father "felt, in particular, that higher education provides the tools and pathways to advance oneself – and, because his own experience at Northwestern's Engineering school launched his career, he maintained a strong allegiance to the university.
"He especially loved staying abreast of the Tech School (McCormick) and its many new programs, research achievements and outstanding faculty," she added. "It was one of his biggest joys.
"But his recent gift to the Writing Program, meant to honor my mother, was also symbolic of his belief in cultivating the fundamentals," Shumway noted. "Without a doubt, he believed in Northwestern as a vehicle for bettering the future, and his contribution of both energy and dollars to the University was his way of providing opportunity for generations to come."
The gift that renamed the Writing Program at Northwestern earlier this year was an important and meaningful one for Cook and his family.
"We were fascinated by the fundamentals of the existing program and the possibility of promoting such strong teaching in the art of writing to a large and diverse student body," said Shumway at the time.
Cook's wife, Barbara "Bobbie" Wilson Cook, passed away in 1994. They were married for 44 years. Several members of the Cook family across the generations have attended Northwestern.
The gift by the Bobbie and Stanton Cook Family Foundation enables Weinberg to extend the Writing Program to include more offerings for juniors and seniors, to develop new partnerships for first-year programming and to expand its work beyond Weinberg to create writing-related curricula for other disciplines at Northwestern.
This gift came at a pivotal time for Northwestern. On March 14, 2014, the University announced its $3.75 billion fundraising campaign, We Will. The Campaign for Northwestern, to address society's critical challenges and prepare global leaders.
In the 1940s, Cook served in the U.S. Army Air Corps for two years during World War II. He trained as a tailgunner/navigator, but the war ended before he saw combat duty.
After graduating from Northwestern in 1949, Cook started out as a salesman with Shell Oil Company. He later moved to the Chicago Tribune and rose through the ranks, eventually becoming the newspaper's general manager, president, CEO, chairman and publisher.
During this period, from the early 1970s to the mid 1990s, Cook also took on increasingly more important roles at Tribune Company, rising to serve as president, CEO and chairman of the firm, a publisher of daily newspapers and community publications and an operator of television and radio stations.
In addition to Shumway, Cook is survived by another daughter, Nancy Cook; three sons, Scott, David and Douglas; and seven grandchildren.
A memorial service is planned for 10 a.m. next Wednesday, Sept. 9, at Kenilworth Union Church, 211 Kenilworth Ave., Kenilworth, with a reception to follow at Indian Hill Club, 1 Indian Hill Road, Winnetka.