Undergraduate
Northwestern's Solar Car to Race in Formula Sun Grand Prix
Team will head to Austin, Texas next month for a three-day race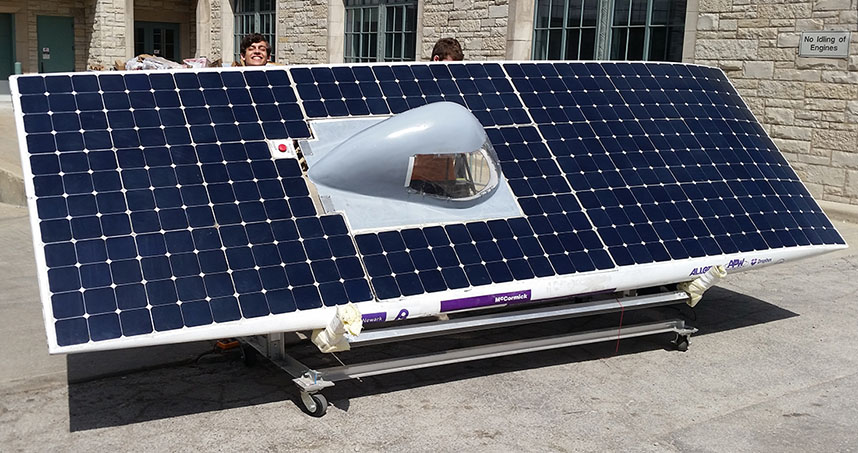 The sun is rising on another solar car season, and the NUsolar team is ready to gear up. The team will head to the Lone Star State next month to race in the Formula Sun Grand Prix from July 26 to 31.
Northwestern's team will compete against 16 other university teams at the Circuit of the Americas 3.5-mile track in Austin, Texas. Each solar car will navigate a series of hills, s-curves, and hairpin turns to see which car can race the most laps over the three-day event using only power from the sun. An award will also be given to the team that completes the fastest single lap.
Twenty Northwestern undergraduates are behind the SC6 — short for "Solar Car 6." The lightweight, aerodynamic car has already seen two prior competitions. But this year it's equipped with new software to better control the vehicle's speed and better respond to the driver's commands.
This year's team is composed of a mix of students from the McCormick School of Engineering, Weinberg College of Arts and Sciences, and Bienen School of Music. During the race, four team members will take turns driving the car, while other team members consider strategy, handle repairs, and monitor the weather conditions.
"We're a young team, but what we lack in experience has been made up by our extensive planning and risk analysis," said project manager Spencer Williams, a junior studying computer engineering. "We planned out the entire year with multiple backup plans, so we could respond better to unforeseen circumstances. Using this approach, we hit almost all the goals we initially set."
Arguably the most important parts of the car are its solar cells, which cover 95 percent of its top surfaces. The cells fuel lithium-ion batteries, which then power the motor, lights, and software system. Outfitted with headlights, turn signals, and a rear-view camera system, the SC6 is safe and fully functional to be legally driven on the road.
"I joined the team because I wanted to design something innovative," said Williams, who has been a member since his freshman year. "The solar car has a very complex electrical system and an interesting mechanical design that I have learned a lot from."