Events
McCormick Graduate Students Celebrate 157th Commencement
Dean Julio M. Ottino, Cate Brinson, William Woodburn, and Shahid Ahmed gave remarks
Northwestern University's McCormick School of Engineering celebrated the graduation of hundreds of accomplished master's and PhD students on June 19 and 20 as part of the University's 157th Commencement. Three ceremonies in the Ryan Family Auditorium in the Technological Institute recognized 594 graduating master's students and 176 PhDs.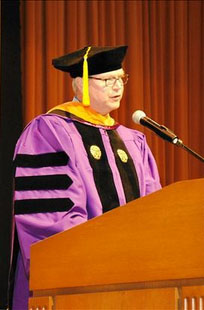 McCormick Dean Julio M. Ottino kicked off the ceremonies by praising graduates for their hard work and determination and by thanking friends and family who shared in the many sacrifices, challenges, and successes of graduate study. He told the graduates that they now have the skills needed to succeed in the world.
"Whether you're starting new careers or moving up in current ones, you now hold the advantage of knowing how to solve the right problem behind the perceived problem," Ottino said. "That finding the right question is sometimes more important than jumping into finding the right answer. You will take these skills with you wherever you go."
McCormick's Master's Degree Recognition Ceremony featured William Woodburn (MS '75), founding partner of Global Infrastructure Partners, a private equity fund focused on energy and transportation asset investing and ownership. He told graduates about the importance of making good decisions, especially decisions that force them to "stretch into bigger and better roles."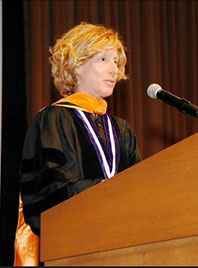 "Stretch, to me, means thinking bigger, leaving your comfort zone, and thinking of continual improvement," Woodburn said. "Stretch will be critical in your career progression."
L. Catherine Brinson, the Jerome B. Cohen Professor of Engineering at Northwestern University, addressed graduates at the PhD Hooding Ceremony. She talked about the "yin and yang of whole-brain engineering," and the importance of balancing seemingly opposing concepts: passion and discipline, humility and advocacy, and inclusiveness and distinctiveness.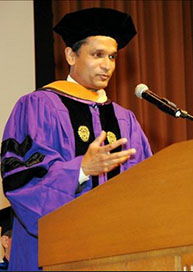 "Some of the most fundamental observations come from something that appears it should work but doesn't," Brinson said. "Discordance between what we believe and what we know is incredibly important to investigate. As engineers, some of the most fruitful things we will ever do is uncover differences between what we believe, what we have been taught, what we experience, what we discover."
The following day, graduates of McCormick's professional master's programs gathered for an address delivered by Shahid Ahmed (MEM '01), managing director of Accenture. He talked about the importance of human relationships and physical connection and the power of getting out of the office.
"Even in the midst of seismic change and rapid technology innovation, the true heart of achievement is not digital," Ahmed said. "It's not technology. It's human. The human connection, the strength of human bonds and personal relationships is the basis for much of what each of us will achieve in our lifetimes."