Events
Robot Dexterity Tested In Head-To-Head Competition
Autonomous student-designed robots will battle it out May 23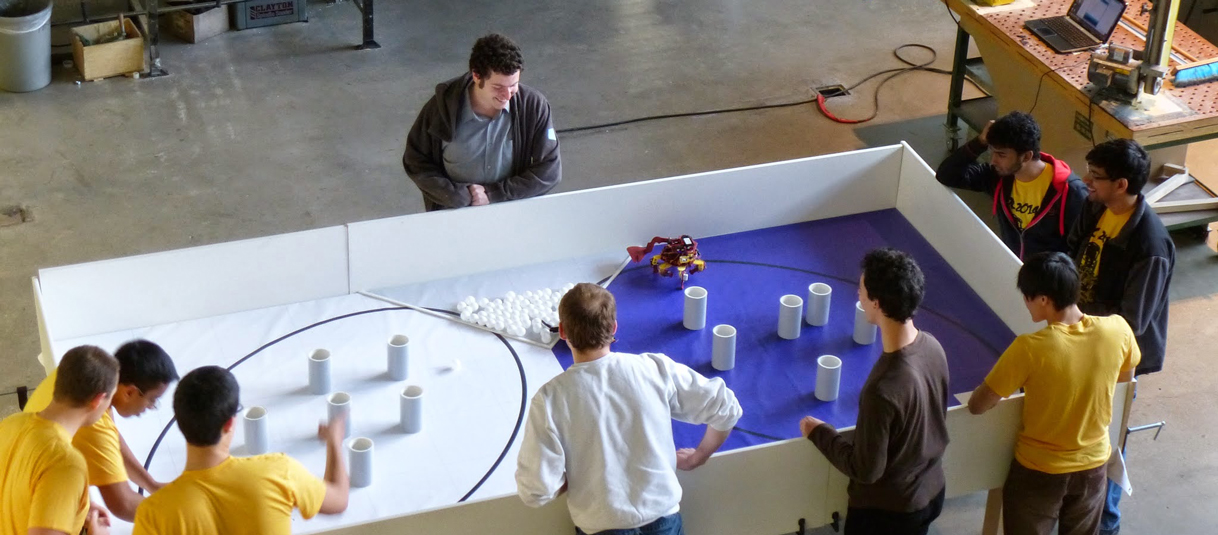 Ten autonomous robots will attempt to outmaneuver each other to win at "Robot Checkers" Saturday, May 23, as they and their student designers compete in the 24th annual Design Competition at Northwestern University's McCormick School of Engineering and Applied Science. 
What happens during the challenge each year is usually pretty unpredictable. But this year, strategy and dexterity will play equal roles as robots go head-to-head in this play on the popular game checkers.
Free and open to the public, "Robot Checkers" will start at noon at the Ford Motor Company Engineering Design Center, 2133 Sheridan Road, on the Evanston campus. Hundreds of spectators attend every year to cheer on the competitors. A campus map can be found on the Northwestern website.
The robots will compete one-on-one during the final competition Saturday, attempting to pick up two-inch cubes and place them on their team's color in the checkerboard arena. Robots that stack the cubes earn extra points. Timing is key -- if a robot drops a cube too early its opponent could steal it away. 
Teams of undergraduates from a variety of engineering fields have spent five months designing, building and programming their robots. Some teams are fielding classic robot designs with rotating brushes to pick up cubes; others are deploying multiple, smaller robots in an attempt to get to the cubes faster.
The robots already have competed in a preliminary round to determine the standings going into the final.
The event is expected to last three hours, concluding with an awards ceremony. Cash prizes will be awarded to the top three teams, with first place receiving $1,000. 
One team also will be honored with the annual Myke Minbiole Elegant Engineering Award, named for McCormick alumnus Minbiole, who worked as an engineer until being killed in a hit-and-run collision in 2007. The Minbiole family will present the $500 award.