Honors and Awards
Five McCormick Professors Receive Prestigious Honor for Young Faculty
National Science Foundation recognizes creative integration of research and education
Five young McCormick School of Engineering faculty members—Oliver Cossairt, Nikos Hardavellas, James Rondinelli, Evan Scott and Keith Tyo—have received a prestigious Faculty Early Career Development (CAREER) Award from the National Science Foundation (NSF).
The CAREER award, the NSF's most prestigious honor for junior faculty members, supports early career development of individuals who exemplify the role of teacher-scholar through outstanding research, excellent education and the integration of education and research. The minimum CAREER award size is $400,000 for a five-year period.
The award recipients' areas of research include computational photography, energy-efficient computing, modulation of the immune system, computational design of new materials, engineering microbes for biofuels, chemicals and drugs, and functional analysis in mathematics.
The CAREER award projects are:
Oliver Cossairt

, assistant professor of electrical engineering and computer science. His goal is to build a digital camera with the same resolution as an optical telescope using only commercially available camera modules and inexpensive optical components.
Nikos Hardavellas, assistant professor of electrical engineering and computer science. He aims to use nanophotonics to design novel, energy-efficient computing processor architectures that break free of current area, power, bandwidth, and yield constraints of traditional chip designs.

James Rondinelli

, assistant professor of materials science and engineering. His aim is to design electronic properties of materials, including electrical resistivity and optical behavior, by controlling material structure at the level of atoms.

Evan Scott

, assistant professor of biomedical engineering. His project involves engineering synthetic nanostructures that mimic viruses, which will serve as tools to study inflammation resulting from viral infection.

Keith Tyo

, assistant professor of chemical and biological engineering. He will investigate metabolic regulation in non-growing bacteria to better engineer highly productive microbe strains for fuel synthesis.
More detail on each faculty member's research and his or her CAREER award is below.
Oliver Cossairt
Cossairt's research is in the emerging field of computational photography, which combines expertise in optics, image processing, computer vision and computer graphics. Cossairt heads Northwestern's Computational Photography Lab where he and his team are building a new breed of cameras with increased functionality and performance that will transform the way cameras are built in coming decades, from low-end consumer imagers to high-end scientific instruments.
"Support from the CAREER award will help make it possible for the Computational Photography Lab to achieve its vision of transforming advanced imaging technologies into ubiquitous and inexpensive techniques accessible to all," Cossairt said.
Cossairt's CAREER project is titled "Coherent Computational Imaging: Micro Measurements in a Macro World." The fundamental science question Cossairt will address is: "What is the limit to the resolution we can achieve with digital cameras?" His team is building fundamentally new types of cameras that combine novel optics and algorithm design to achieve unprecedented levels of precision in image, depth and material acquisition.
The goal is to build a digital camera with the same resolution as an optical telescope using only commercially available camera modules and inexpensive optical components. The research will have a variety of applications in areas such as surveillance, remote sensing, robot navigation and autonomous vehicles.
To compliment this research, Cossairt and his team will develop a comprehensive education program incorporating imaging and photography for underprivileged and at-risk youth in the Chicago area. The curriculum is based on Bigshot, a build-it­yourself camera that kids assemble and use to capture photos they can then share with others.
Nikos Hardavellas
Hardavellas is an expert in parallel computer architecture, with a specific focus on the intersection of computer architecture and nanophotonics. He founded and directs the Parallel Architecture Group at Northwestern (PARAG@N), which merges emerging technologies and unconventional approaches to address general problems in the power and energy efficiency of computing systems.
Hardavellas received a CAREER award for his proposal "Energy-Efficiency and Energy-Proportional Silicon-Photonic Manycore Architectures." Fast, inexpensive computing is a critical factor to increase economic productivity and advance the frontiers of science. The increasing energy demands of computing, however, have put computers on a path toward technological, economic, and environmental unsustainability. While computing does use enormous amounts of power, the vast majority of this power is simply wasted. Multi-chip designs can address some of these issues but require a cross-chip interconnect with bandwidth, latency, and energy efficiency characteristics well beyond the reach of conventional electrical signaling.
Hardavellas will use his CAREER award to develop scalable, energy-efficient, and energy-proportional interconnects for future multi-core computing systems. By using nanophotonic interconnects, he will design systems that break free of the limitations of conventional single-chip designs.
"This award will enable my team to commit substantial resources to carry out this high-risk, high-reward research," Hardavellas said. "We hope to pave the way for using nanophotonics and other novel devices in future computing architectures."
James Rondinelli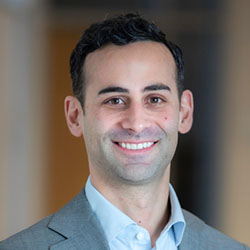 Rondinelli's passion is to understand and manipulate technologically useful materials at their most fundamental -- electronic structure -- level. His research focuses on formulating theories to understand how the distribution of electrons at the subnanometer scale governs the macroscale electrical, optical and magnetic properties of complex inorganic materials. Then, by using only chemical composition and structure as input, he computationally designs new, yet-to-be-made materials with targeted properties through predictive models.
Rondinelli received a CAREER award for his proposal "Ligand Engineering of Structure and Electronic Function in Complex Metal Oxyfluorides." The project aims to design electronic properties of materials, including electrical resistivity and optical behavior, by atomic-scale control over material structure. Specifically, Rondinelli and his group will explore oxides with transition metal cations and focus on the effect that fluorine (the ligand that substitutes for oxygen atoms in the materials) has on the electronic functionality for applications ranging from solar energy absorbers to optoelectronic devices. The project includes education and outreach activities, including design of curriculum materials for high school students that meet newly required Next Generation Science Standards, and the creation of a Materials Informatics Curriculum to engage undergraduate and graduate students in data-centric materials science methods.
"Receiving this award is a great honor and will enable our research group to explore a new structure-based design approach," Rondinelli said. "For example, most conventional property-by-design routes in these material families have relied on changing the transition metal cation. This project seeks to apply another route: tuning the interactions in the crystal through anion substitution for targeted functionality." The range of control over the material functionality with this modality has been poorly explored theoretically and computationally. This effort, Rondinelli said, will address what's possible and to what extent such materials may be useful to next-generation energy-conversion and electronic devices.
Evan Scott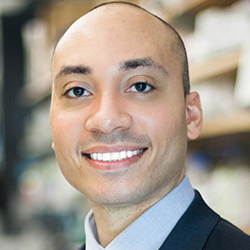 Scott's research lies in the relatively new area of immunoengineering, which is a branch of biomedical engineering that applies principles from engineering and rational design towards the understanding and modulation of the immune system. The work of Scott's group specifically focuses on the design, synthesis and application of nanomaterials that target and influence inflammatory cells. He uses these materials in the development of new strategies for vaccination and the treatment of diseases involving inflammation, such as heart disease and cancer.
His CAREER project is titled "Rational Design of a Biomimetic Nanomaterial Library to Probe Mechanisms Behind Virus-Induced Immunopathology." Scott will investigate how certain biochemical and cellular triggers of inflammation can generate a distinct and reproducible immunological response. His unique strategy involves the engineering of synthetic nanostructures that mimic viruses, which have evolved diverse mechanisms of immune stimulation. These nanostructures will function as versatile tools to controllably test hypotheses of how viral inflammatory triggers induce a specific disease state.
The educational objective of his project implements a multi-pronged high school program that exposes students and their parents to the diverse opportunities made accessible by a career in biomedical engineering. Successful women and underrepresented minority scientists, consisting primarily of biomedical engineering faculty, will be invited to a local high school for seminars and one-on-one mentoring sessions with students and their parents.
"The NSF CAREER award is a great honor that often takes many years and attempts to obtain, so I feel very grateful and humbled to have received it so early in my career," Scott said. "This funding will support one of my new Ph.D. students throughout his degree and will allow us to develop novel bionanotechnology for investigating inflammation related to viral infection, as well as strengthen the educational connection between Northwestern and a local high school in Evanston."
Keith Tyo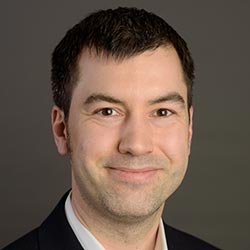 Tyo's lab carries out synthetic biology research, engineering microbes for the production of biofuels, chemicals and drugs from renewable resources like non-food biomass. His group studies the properties of enzymes and metabolic regulation to identify the genetic changes required for economically feasible biofuel production processes.
His CAREER project is titled "Engineering Non-Growth Metabolism for High-Yield Biochemical Production." Non-growing microbes do not waste raw materials (sugars) on making more cells and could, in theory, convert 100 percent of the sugar to biofuel without waste. In reality, microbes shutoff metabolism when they stop growing and make only trace amounts of the biofuel. Tyo will identify the specific rate-limiting steps that inhibit product synthesis using network-enabled thermodynamics. These rate-limiting steps will be engineered to yield highly productive strains for fuel synthesis.
"It is an honor to receive the CAREER award," Tyo said. "I see the CAREER as an acknowledgement by senior researchers in my field that my lab is studying impactful problems with novel approaches. The CAREER will enable us to put substantial resources toward pursuing a new approach to engineering microbes and enabling the synthetic biology paradigm."
Tyo's CAREER award also will fund his initiative to send master's students to Cape Town, South Africa, to analyze biotech opportunities for improving low-income health care and mitigating pollution from mine waste.