Honors and Awards
Deborah Cundiff Named McCormick STAR
Cundiff was recognized with the first annual staff award
Deborah Cundiff, business administrator for the Department of Biomedical Engineering, was recognized with the first annual STAR award at a staff recognition ceremony. The April 23 event took place in the newly renovated Cohen Commons.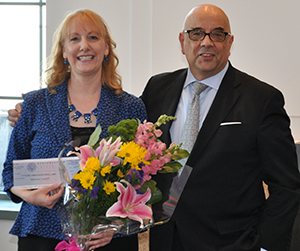 Formerly a quarterly award, the STAR Award — which stands for Staff Team Appreciation and Recognition — is now an annual honor that recognizes a staff member who goes above and beyond regular job responsibilities.
Cundiff was nominated for her leadership, professionalism, and consistent willingness to help others.
"Beyond her stellar business administrator work," the nomination stated, "in 2014 Deb was an instrumental contributor in the creation and launch of five major process improvement pilots across McCormick. With an amazing ability to stretch her time and talent, she sets the standard for operational excellence and collaboration."
Winners of the STAR Award are nominated by fellow staff and faculty members, and a selection committee recommends a finalist to the dean. Other finalists were Aaron DeLee, research administrator in the Department of Chemical and Biological Engineering; Taniesha Robinson, developer for McCormick Information Technology; and Paula Straaton, business administrator for the Office of Graduate Studies and Research.