Events
McCormick Graduate Students Celebrate December Commencement
Northwestern University's McCormick School of Engineering and Applied Science celebrated the graduation of its accomplished master's and PhD students on Monday, Dec. 15. 
Held in the Technological Institute's Ryan Family Auditorium, the event marked the first time McCormick has conducted a ceremony for its December graduates, recognizing 120 master's students and 13 PhD students.
"This is the first time we are having a winter ceremony to celebrate our PhD and master's students who have graduated since June," said McCormick Dean Julio M. Ottino. "More and more of our students are graduating midyear, and we hope to make this an annual event."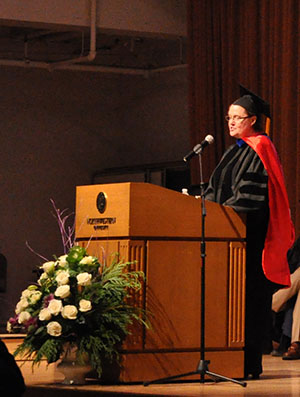 The ceremony featured Brenda Dietrich, IBM fellow and vice president. She talked about how data and access to information has changed since she earned her PhD in 1984. Throughout the past century, she said, information was found at the library. Now it's everywhere, and it's searchable and accessible at any time of day, from anywhere in the world. Because of that, the roles of experts and scholars have changed, no longer focused on remembering information. Now experts continually search for new information, create new information, and find insights by connecting disparate pieces of information.
"Despite the fact that so much is known today and so much more is knowable today than at any time in the past, there is no end in sight to the knowledge we still need to create," Dietrich said. "Your education here at Northwestern has given you the foundation you need to be experts and scholars in this new real world."
In parting, Ottino congratulated the graduates and urged them to maintain connections to McCormick.
"Today marks an important day in your careers and in your life," he said. "Your degree is a significant accomplishment, and I hope that the skills that you have learned here have prepared you for a lifetime of impact. Although your careers may take you far from campus, we hope to see and hear from you on a frequent basis. As alumni, you are the source of our value; we are only as good as the people we produce. I am eager to see what you will accomplish."