Events
Faculty Panel Discusses Creativity in 'Conversations at the Intersection' Event
Moderated by Dean Julio M. Ottino, the panel discussed creative block, lone geniuses, and creative processes
Architect Larry Booth, visual artist Jeanne Dunning, and philosophy professor Sandy Goldberg come from very different backgrounds and diverse fields of study. But when discussing creativity, they agreed on one thing: being open is key to the creative process.
"You have to go through the world being open to the thing that will fulfill your desire," Dunning said. "It's going to come to you in some form that you never would have imagined. Creativity is being open to the connections between things."
The discussion was a part of "Conversations at the Intersection," a new speaker series that aims to provide a broad audience with a glimpse of the creative process from across different fields.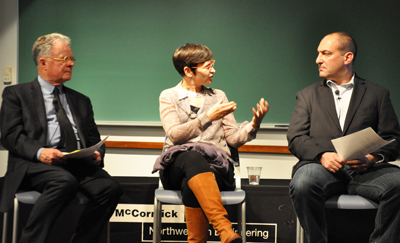 Moderated by McCormick Dean Julio M. Ottino, the panel featured Booth, the Richard C. Halpern/RISE International Distinguished Architect in Residence and founder of Booth Hansen Associates; Dunning, professor of art theory and practice in the Weinberg College of Arts and Sciences; and Goldberg, professor and chair of Weinberg's philosophy department.
The event took place at 4 p.m. Wednesday, Nov. 12 in the Ford Motor Company Engineering Design Center in Evanston.
The panel discussed several facets of creativity, including ways to overcome a creative block, the concept of a "lone genius," and the underlying process of creative works. Ottino started the discussion by asking the panel how they find creativity when they cannot think of new ideas. Dunning said she often moves forward by first looking backward.
"If you look back at past work, it seems to suggest all sorts of other things you can do," she said. "Everything I make suggests other avenues I could take that follow up on something in that piece."
Booth disagreed, adding that he feared looking back on past work would block new ideas. "A preconceived element in the process limits your thinking," he said. "You want to keep it fresh."
"When I see artists do that in a productive way, you never get something that looks the same or seems the same," Dunning said. "If I'm looking at a work of art, sometimes it suggests things I didn't do, and some of them may be interesting to follow as another path."
The panel discussed which situation creates the best art—being in isolation or a part of a community. The panelists agreed that "lone geniuses" are uncommon and most art responds to the environment. Booth said it would be impossible for an architect to work in isolation because they rely too much on conversations with clients and engineers.
Ottino asked if society is getting closer to bridging the gaps among science, technology, and art. While Booth said that architecture is a "team sport" that requires more collaboration among different disciplines, Goldberg and Dunning said that the education and the workplace tend to emphasize specialization, which makes it harder to bridge the gaps.
"Specialization does pull us in opposite directions," Goldberg said. "But I don't know that every person needs to be a Renaissance person. The division of intellectual labor is a good thing. I would like to see people who are specialists but are open to learning from other people, which requires a certain intellectual humility."
The panel agreed that it is important to follow ideas that are fun, interesting, and invigorating to pursue.
"People tend to do things they feel they have to do rather than explore things they are excited about," Dunning said. "That can turn into a depleted life."