Events
ETOPiA Play Explores Commuting to War
Grounded probes the thrills and stresses of being a drone pilot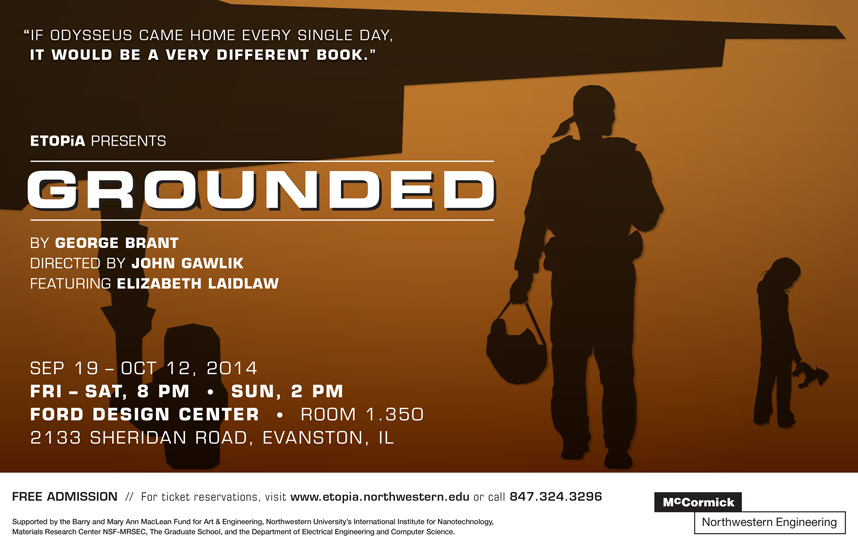 Grounded, a play examining how combat presents unexpected challenges for drone pilots, will run at Northwestern from Sept. 19 to Oct. 12.
The play marks the seventh season of ETOPiA: Engineering Transdisciplinary Outreach Project in the Arts, an outreach initiative that seeks to inspire cross-disciplinary dialogue about the role of science and technology in society.
Grounded chronicles several years in the life of a female American fighter pilot. After being reassigned to pilot drones from a windowless trailer in the Nevada desert, the shallows of workplace existence replace the adrenaline highs and military camaraderie of piloting actual fighter missions. Literally commuting to war, she fights terrorists by day and then returns home to her husband and baby each night.
"She wakes up in the morning, makes breakfast for the family, and drops their child off at day care," said Matthew Grayson, producer of the annual ETOPiA event and associate professor of electrical engineering and computer science at the McCormick School of Engineering. "Then it's off to work to go kill the bad guys. It's psychological whiplash."
Written by George Brant, a Northwestern alumnus, Grounded experienced its Chicago premiere earlier this summer at the American Blues Theater.
"I couldn't be more thrilled that Grounded will be performed at Northwestern," said Brant, who graduated from the School of Communication in 1991. "It is deeply concerned with the role that science and technology in play in society, so it fits well with ETOPiA's mission."
Grounded features Elizabeth Laidlaw, a Joseph Jefferson Award-winning Chicago actress who has guest starred on the television dramas Boss, Chicago Code, and Chicago PD. She has appeared on stage at the Chicago Shakespeare, Goodman, and Steppenwolf Theatres. She is also the artistic director and founder of Lakeside Shakespeare Theatre.
Performances will be held Sept. 19 – Oct. 12 at 8 p.m. Fridays and Saturdays and 2 p.m. Sundays in the ITW classroom, room 1-350, in the Ford Motor Company Engineering Design Center, 2133 Sheridan Road, on Northwestern's Evanston campus. It is free and open to the public. Advance reservations are strongly recommended.
This year's ETOPiA production is supported by the Barry and Mary Ann MacLean Fund for Arts and Engineering, Northwestern University's International Institute for Nanotechnology, Materials Research Center, The Graduate School, and the Department of Electrical Engineering and Computer Science.
For more information about Grounded, visit www.etopia.northwestern.edu.