Honors and Awards
McCormick Office of Career Development Receives General Electric Partnership Award
The award was given for the office's efforts in creating an outstanding corporate relationship with the company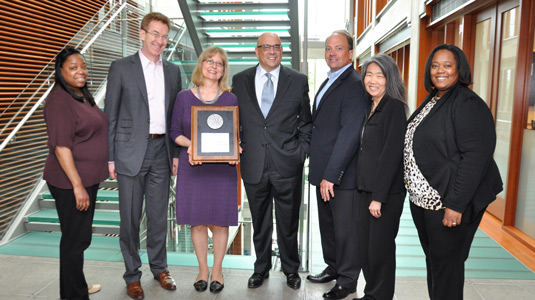 Northwestern University's McCormick Office of Career Development was recently recognized by General Electric (GE) with the GE Partnership Award. The award was given for the office's efforts in creating an outstanding corporate relationship with the company.
Julio M. Ottino, dean of the McCormick School of Engineering and Applied Science, and Helen Oloroso, assistant dean and director of McCormick Office of Career Development, accepted the GE Partnership Award at a ceremony recently.
"The McCormick Office of Career Development serves as an important link between engineering students and employers. We are honored to receive this award from GE and value our longstanding relationship," Ottino said. 
The award was presented by Eric Stahre, president and CEO of Molecular Imaging and Computed Tomography for GE's Healthcare business, and Tony Denhart, university relations manager of GE's Executive Schools for GE Corporate.
"We have an outstanding partnership with the McCormick Office of Career Development. It's a joy working with their team. Much of our success for hiring the best and brightest Northwestern engineers we owe to their work enabling, facilitating, and supporting GE recruiting," Stahre said.
"The McCormick Office of Career Development has done an outstanding job over many years in being receptive to new ideas, helping to promote GE, being willing to facilitate connections for us, and, most importantly, being a good and caring partner," Denhart said.
Northwestern is one of more than 100 global executive schools recognized by GE as top developers of talent and company placement. Each year, GE's university relations' recruiting and staffing services team evaluates schools based on the corporation's overall relationship to each university, number of hires, and the relationship with the students, faculty and administration. Northwestern's strong relationship with GE extends across multiple university departments.
"The relationship between a university and employer is multidimensional, with critical balance placed on students, faculty, and administration," Denhart said. "Since the student is the 'centerpiece' of the university, employers need to position themselves with the administration and faculty while developing the relationship with the student body. Simply stated, if the role of the employer is 'to hire' and the role of the faculty is 'to educate,' then it seems logical that the role of the administration is 'to prepare.'"