Honors and Awards
Materials Science Undergraduate Katie Jaycox Wins Gotaas Award
Winning paper describes 3-D printing of tools with lunar and Martian dusts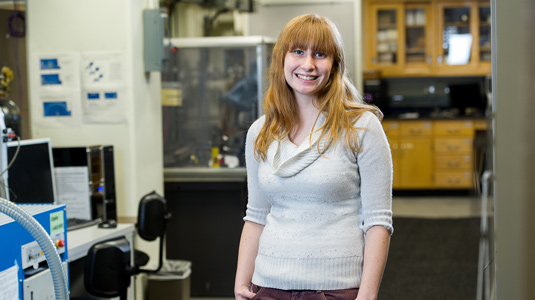 If Earthlings ever decide to build structures on the moon, it will be a lot easier if the tools are already there. Materials science and engineering undergraduate Katie Jaycox proposed that by sending 3-D printers to the moon, researchers can use oxides of iron, aluminum, and other metals in moon dirt to build mining robots and tools.
Jaycox's paper, titled "Direct Ink Write 3-D Printing of Lunar and Martian Dust Simulant," won the 2014 Harold B. Gotaas Undergraduate Research Award from the McCormick School of Engineering and Applied Science.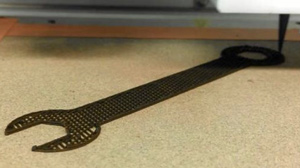 The prestigious award, named in honor of McCormick's third dean, is given annually to the senior who presents the best research paper in the competition as judged by a panel of faculty members. Jaycox's work was conducted in the laboratory of Ramille Shah, an assistant professor of materials science and engineering and transplant surgery.
Jaycox created 3-D printer inks containing simulated lunar and Martian dusts, printed tools, and then tested their structures. The tools demonstrated how iron can exhibit hyperelasticity. By using tools created on the moon or Mars, Jaycox posits, astronauts will be relieved of the burden of carrying large supplies back and forth during space missions.
"I'm honored that Northwestern thinks the research I am passionate about is important enough to receive the Gotaas Award," Jaycox says. "Space travel is sometimes looked at as frivolous, and Northwestern's support of this research and of me means a lot."
Jaycox received the award last week before 100 other McCormick seniors during the "Senior Send-off" event in the lobby of the Ford Motor Company Engineering Design Center.