Events
Joseph Moskal Talks about Failure and Success at Farley Fellows Seminar
Moskal worked tirelessly for 30 years before finding success in biotech
It all began in 1983. As a staff fellow at the National Institutes of Health, Joseph Moskal studied monoclone antibodies and how they related to learning and memory. Thirty years later, this research turned into a booming biotech company with $63 million in financing and 60 employees.
Joseph Moskal, distinguished research professor of biomedical engineering at McCormick and founder of neuropharmaceutical company Naurex, talked about his long journey to success during a Farley Fellows seminar. The event took place June 4 in the ITW classroom of the Ford Motor Company Engineering Design Center.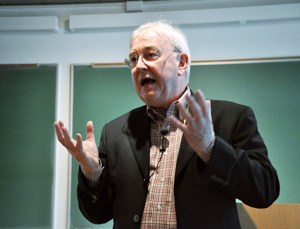 "In the biotech industry, there is a high probability of failure," Moskal told the audience. "You have to handle the repeated failure and keep getting up to the plate."
Moskal joined Northwestern in 1990 and founded McCormick's Falk Center for Molecular Therapeutics. Naurex, which was created 16 years later, was the fourth company to grow out of Moskal's research but the first to succeed. He said that creating a biotech company while working on Northwestern's campus was "a wonderful marriage." It enabled him to pull resources from the private sector while having the ability to work with students and world-class researchers.
Naurex now has two anti-depressants in clinical development, but business didn't start flourishing until 2011 when it raised $18 million in financing. Before that, Moskal struggled to raise money, dealing with what he describes as a "Catch-22."
"People didn't want to invest money without seeing proof that the drugs worked," Moskal said. "But I couldn't show proof-of-concept without having money. You need a profound amount of money for proof-of-concept."
That first financing put Naurex on the map, and the company began to take off. It attracted two veterans (and McCormick Advisory Council members) from the pharmaceutical industry: Bill Gantz, former president of Baxter International, joined the board of directors, and Norbert Riedel, former corporate vice president and chief science and innovation officer at Baxter International, came on board as president and CEO.
"We finally had the right people to make a spark," Moskal said. "The science became taken for granted, and it was all about the business model."
Moskal's novel therapeutic GLYX-13 targets brain receptors responsible for learning and memory, which is a very different approach from existing antidepressants. Fast acting, GLYX-13 works in a matter of hours and does not have serious or limiting side effects. Late last year, Naurex attracted $38 million in investments, which financed Phase IIb clinical trials for the promising therapeutic.
"It hits a population that is really in high need for something that works," Moskal said. "In that way, we hit a sweet spot, and it kept us in the game."