Graduate
Innoblative Designs Targets Cancer with Student-Created Device
The device could replace radiation therapy for breast cancer patients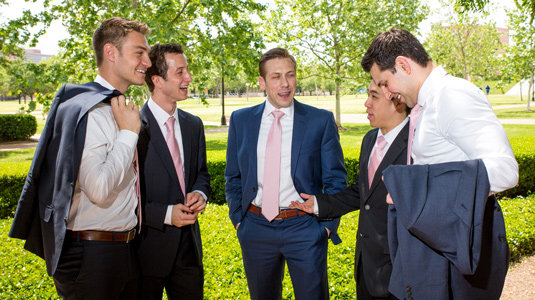 When it comes to fighting cancer, removing the tumor is only half the battle. To kill the residual cancer cells left inside the body, doctors often prescribe radiation treatment, which is expensive, time-consuming, and can have negative side effects.
Northwestern startup Innoblative Designs has created a medical device that could potentially make breast cancer treatment more efficient and less expensive. The device, a handheld radiofrequency ablation (RFA) probe, can be used by surgeons to quickly eliminate remaining cancer cells after a lumpectomy while the patient is still under anesthesia.
"It can kill the residual cells in 15 minutes," says Brian Robillard, a master's student in biomedical engineering who helped develop the device. "This potentially eliminates the need for radiation."
RFA has been used to treat other types of cancer and is even the standard-of-care for treating liver cancer. While researchers have used RFA liver probes to successfully treat breast cancer, those probes do not function properly in the post-lumpectomy breast cavity. They are too long and work best on solid organs. Innoblative Designs' device is optimized to fit the lumpectomy cavity and is ergonomic for the surgeon.
The idea originated in Northwestern's surgery department, but the team has members from a variety of backgrounds including engineering, medicine, business, and law. David Mahvi, the James R. Hines Professor of Surgery and chief of the surgical oncology division at Northwestern Memorial Hospital, advises the team. He has spent many years researching RFA probes for liver cancer. The team also has support from Alan Sahakian, a professor of electrical engineering and computer science, who has spent a portion of his career researching new electrical methods for tumor ablation.
"We grew organically with several really bright people who have interdisciplinary expertise," Robillard says. "We just kept tapping into the Northwestern community because so many people here have entrepreneurial ambitions."
So far, the new tool has garnered enthusiasm from the medical device and surgical community. This year the team traveled around the country and to Canada to compete in business plan competitions where they consistently placed in the finals. Among several honors, they received first place and $10,000 in cash at the annual Biomedical Engineering Innovations, Design, and Entrepreneurship Awards, hosted by the National Collegiate Inventors and Innovators Alliance. They also took first place at the University of Texas Global Venture Labs Competition, which resulted in an invitation to ring the NASDAQ stock market closing bell.
"The competitions allowed us to raise money but also helped us make important connections," says Curtis Wang, Innoblative Designs' electrical engineering lead and a recent graduate from Sahakian's lab. "We received a lot of interest from big players in the women's health and ablation technology industries."
Innoblative Designs has successfully tested the device in computational models and on the bench and is now starting to work with a design manufacturer to build their product. The long-term goal is to get the device through preclinical and clinical trials and ultimately into operating rooms.
Members of the Innoblative Designs team:
Daniel McCarthy, a senior general surgery resident at Northwestern Memorial Hospital and a graduate of the McCormick and Kellogg School of Management MMM program
Adam Piotrowski, a medical device innovation fellow at Northwestern's Center for Device Development
Brian Robillard, a master's student in biomedical engineering at McCormick
Jason Sandler, a JD and MBA candidate at the Law School and Kellogg School of Management
Curtis Wang, a recent graduate in electrical engineering and computer science at McCormick
Tyler Wanke, a medical student at Feinberg, MBA candidate at the Kellogg School of Management, and student in McCormick's Master of Engineering Management Program