Events
Committing to a Clear Message
Joseph McCormack visits McCormick to discuss the power of brevity.
At the beginning of his talk, Joseph McCormack held up a large glass pitcher in one hand and a small drinking glass in the other.
"This might be everything you know," McCormack said, gesturing at the pitcher. Then he turned to the glass and added: "But this might be what people have the capacity to handle."
As a part of the McCormick Office of Personal Development speaker series, "The Brevity Mandate: The Formula for Impact" featured McCormack and a panel discussion on how to effectively communicate in a more precise way. A marketing executive, McCormack recently published his book Brief: Make a Bigger Impact by Saying Less. The event took place in the Ford Building's ITW Classroom on Wednesday, April 23.
McCormack said that each person has an eight-second attention span and is interrupted six or seven times per hour. Forty percent of the time, the person does not return to the original task after being interrupted.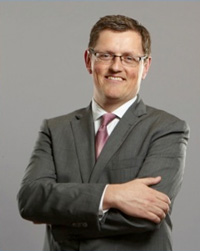 "People receive more information in one day than they received in a lifetime in 1900," McCormack said. People are inundated with so much information that they cannot process it all. They can only hold focus for sustained amounts of time. "You have to be brief," he said. "If you're not, then you, your ideas, and your company will be ignored."
McCormack said that speakers are constantly battling with the listener's internal dialogue. While listening, people's minds drift to formulate opinions and think about what to say next. He suggested using narrative, highly visual storytelling devices that hold attention. He also recommended "mind mapping" to organize thoughts before delivering a talk in order to craft a logical, easy-to-follow message.
After speaking McCormack joined a panel discussion with Abigail Foerstner, an assistant professor at the Medill School of Journalism, Media, Integrated Marketing Communications who teaches science writing, and Mert Iseri (McC '11), cofounder of medical device company SwipeSense.
Foerstner said that as a journalist it is important to be clear, concise, and compelling. She recommended using anecdotes, examples, and graphics to better communicate written messages. Good communication should "build bridges, not barriers," she said.
"Brevity is my life now," Iseri added. Before entering the business world, Iseri admitted that he believed good technology would simply sell itself. "I didn't realize how important communication was until I had to start fighting for attention."
Iseri said it's important to know your audience and craft your message for them. In his own experience, he learned the value of limiting talks to three points. Beyond that, he said, people stop listening.
The panel discussed the importance of being able to simplify an idea. If a person cannot briefly describe a product or plan, then it's a warning sign to potential consumers and investors.
"Simplicity is an early indicator of success," McCormack said. "Simplifying does not mean you're simplistic. If you can't simplify something, then it's an indicator that it might be flawed."