Events
Design:Chicago Panelists to Discuss Designers as Intra/Entrepreneurs
Eighth annual design seminar's theme is how designers can help grow businesses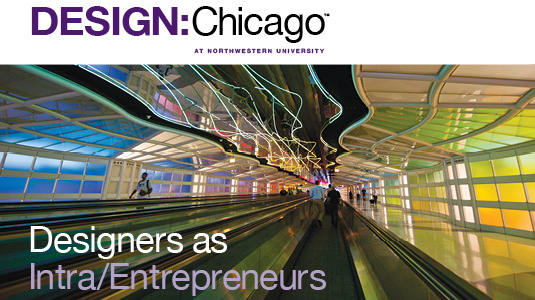 How do designers help grow new businesses? How do they develop new initiatives within large companies?
At the eighth annual Design:Chicago on April 3, design professionals from Motorola, 3M, MINIMAL, and startups like Narrative Science and 30Second Mobile will speak on "Designers as Intra/Entrepreneurs": how designers think, create, and flourish as both entrepreneurs and intrapreneurs (entrepreneurs within large organizations).
The event will be held from 4 to 6:30 p.m. in the McCormick Tribune Auditorium, James L. Allen Center, 2169 Campus Drive, on the Evanston campus.

The popular event is free and open to the public, but registration is required.
Panelists will include:
Elisa All, founder and CEO of 30Second Mobile
Iqbal Arshad, senior vice president of engineering, global product development, Motorola Mobility
Kevin Gilboe, head of global design for the consumer business group, 3M
Kris Hammond, cofounder and chief scientist, Narrative Science; professor of electrical engineering and computer science
Scott Wilson, founder and chief creative officer, MINIMAL Inc.
Design:Chicago is sponsored by the Segal Design Institute, the Master of Product Design and Development Management program, the MMM program, the McCormick School of Engineering and Applied Science, and the Kellogg School of Management.