Events
Career Day Asks Girls to Design a Better World
Hands-on workshop Feb. 22 to show young women opportunities available in engineering
More than 360 Chicago-area middle school and high school girls will perform hands-on experiments and tour Evanston campus laboratories Saturday, Feb. 22, during Northwestern University's 43rd annual Career Day for Girls. The theme of the event is "Engineering: Design a Better World!"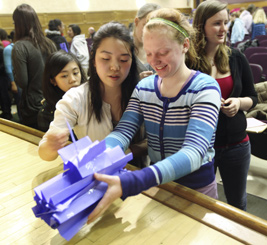 The career and educational workshop hosted by the McCormick School of Engineering and Applied Science and its chapter of the Society of Women Engineers is designed to encourage young women to consider engineering in their education and career choices. It will be held from 9 a.m. to 3:30 p.m. at the Technological Institute, 2145 Sheridan Road. (Registration for the program is closed as it has reached capacity.)
The popular event will include an engineering design competition, laboratory tours, hands-on experiments, a goal-setting workshop focusing on different engineering majors, and separate panel discussions for high school students and parents. Throughout the day, young women will have an opportunity to meet current female engineering students, faculty and alumnae.
Check out the action at the 2010 Career Day for Girls.
Catherine Hurley, the sustainable programs coordinator for the city of Evanston, will kick off the program with a keynote address from 9:15 to 9:45 a.m. in the Technological Institute's Ryan Family Auditorium. Hurley will share her story about how she became interested in engineering.
In the design competition (9:45-10:30 a.m.), teams of eight will use a fork, wire hanger and rubber bands to build a prototype of a newspaper delivery device that can ensure consistent delivery of a sponge into a hula hoop.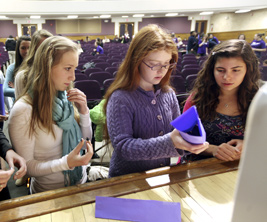 Students participating in lab tours (10:30 a.m.-12:30 p.m.) will, among other things, learn about different prosthetics that change the lives of patients at the Rehabilitation Institute of Chicago, isolate fruit DNA from a banana, explore 3-D printing and view a spinning bicycle wheel that defies gravity.
For the afternoon portion (1:15-3:30 p.m.) middle school students will rotate through three different hands-on activities where they will build bridges with marshmallows and spaghetti and learn the basics of computer programming. High school students will choose among four interactive panels about engineering. Panels will expose students to various aspects of materials science and civil and mechanical engineering. After the panels, they will build a Rube Goldberg machine (2:30-3:30 p.m.).
Career Day has been held at Northwestern annually since 1970, when only 4 percent of the students in the McCormick School of Engineering and Applied Science were women. Today, nearly one-third of McCormick students are women.