Honors and Awards
Husna Levine Named McCormick STAR Award Winner
Business administrator recognized with quarterly staff award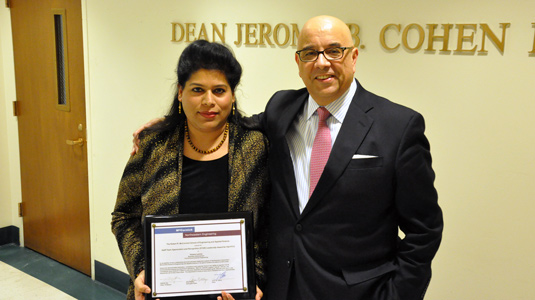 Husna Levine, business administrator for McCormick's Department of Civil and Environmental Engineering, has been recognized with the fall STAR award at a staff recognition event on January 30.
The STAR award — which stands for Staff Team Appreciation and Recognition — is given quarterly to a McCormick employee who demonstrates leadership and goes above and beyond his or her regular duties.
Levine was cited for her dedication, competency, and skills in leading department operations.
"With her cheerful 'can-do' attitude, she consistently does whatever it takes to overcome obstacles and accomplish goals," her award reads. "She has gone above and beyond the call of duty many times. The department is lucky to have such a fantastic business administrator."
Winners of the STAR Award are nominated by fellow staff and faculty, and a selection committee recommends a finalist to the dean for selection.