Education
Energy and Sustainability Efforts Get Boost from New Lab Space
Battery and ultracapacitor lab will expand materials science opportunities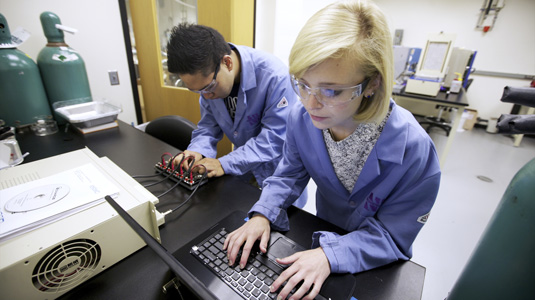 Clean-energy jobs are growing quickly — an estimated four times faster than other work categories — and at Northwestern, student interest is keeping pace. Investments into new sustainability-focused research and courses are providing students at the McCormick School of Engineering with resources to excel in this arena.
This winter, McCormick adds a new lab space to its growing list of green-energy resources: an Energy Materials Laboratory. Housed within the Department of Materials Science and Engineering, the lab provides teaching and research space for creating and testing new materials aimed at solving energy challenges. The first installation, nicknamed the "Bat Lab" (for "Battery Lab"), targets energy storage devices, such as batteries and ultracapacitors. A second stage currently under development, called the "PV Lab," will be used for photovoltaic materials and devices. Additional components are currently being planned.
"We are committed to offering students opportunities in cutting-edge research and innovation, including energy and sustainability," said Jiaxing Huang, associate professor of materials science and engineering and director of the Energy Materials Lab. "This new space will foster learning and research and prepare students to better tackle challenges in these fields."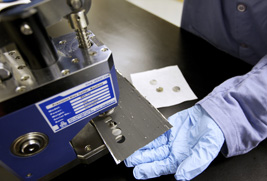 The Bat Lab contains a suite of desktop-sized equipment for materials synthesis, processing, device fabrication, and device testing for batteries and related devices, including a high-speed vibrating ball mill, precision hot rolling press, precision disc cutter, and eight-channel battery analyzer. A controlled-environment glovebox is also available, since most battery electrolytes are very sensitive to air exposure. Students will use the equipment for both in-class and research projects to engage directly in the process of developing, utilizing, and improving materials for energy storage.
The Energy Materials Lab is one component of McCormick's growing suite of energy and sustainability resources, which has included additional course offerings and new faculty with expertise in the fields. Several courses have been developed or updated to cover energy conversation and storage materials and the associated materials science of both functional and structural materials.
The first two components of the Energy Materials Lab — the battery and photovoltaic labs — have been supported by materials science alumni and an in-kind donation from the MTI Corporation and the Murphy Society. Fundraising is ongoing for the remaining components.