Events
Dean's Seminar Series Welcomes New York Times Columnist Adam Bryant
Bryant will discuss leadership and management at 4 p.m. November 19
The McCormick Dean's Seminar Series and Northwestern's Center for Leadership welcome New York Times columnist Adam Bryant, who will give a talk to Northwestern students and faculty at 4 p.m. Tuesday, November 19.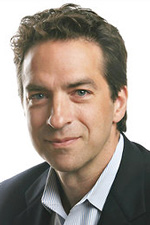 His talk, "What It Takes to Succeed and Other Lessons from the Corner Office," will include insights and career advice distilled from interviews Bryant has conducted with more than 200 CEOs. The lecture will take place in the ITW classroom in the Ford Motor Company Engineering Design Center, 2133 Sheridan Road, on Northwestern's Evanston campus.
Since 2009, Bryant has conducted interviews with chief executives for "Corner Office," a feature about leadership and management in the New York Times and on NYTimes.com. The column appears twice weekly on Fridays and Sundays.
He is also the author of the New York Times bestseller The Corner Office: Indispensable and Unexpected Lessons from CEOs on How to Lead and Succeed, which draws out broader lessons from his interviews. His second book, Quick and Nimble: Lessons from Leading CEOs on How to Create a Culture of Innovation, will be published in January.
Bryant has held many roles at the Times, including business reporter, deputy business editor, deputy national editor, and senior editor for features. He is also a former senior writer and business editor at Newsweek magazine. Bryant was the lead editor of a series on the dangers of distracted driving that won a Pulitzer Prize for National Reporting.