Announcements
From Bench to Bedside: Engineers, Doctors Commercialize Medical Devices in Northwestern Fellowship
Applications are now being accepted for the Center for Device Development (CD2) Innovation Fellowship 2014-15
As a master's student in McCormick's biomedical engineering program, Joan Apolinario (MS '13) learned to apply engineering and design concepts to solve medical problems, improve healthcare, and better understand biological systems. 
Her degree provided her a solid foundation toward achieving her goal of developing new medical technologies. But in such a complex and competitive field, Apolinario knew she would need guidance to get started.
She found support through an innovative fellowship offered by Northwestern's Center for Device Development (CD2) that enables engineers and doctors to "test drive" their own medical device ideas: the CD2 Innovation Fellowship.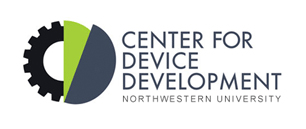 "I thought it was a unique opportunity to learn about the medical device industry, the process of innovation, and entrepreneurship," Apolinario said. "The direct, hands-on experience that the fellowship offers would be amazing for any engineer, whether they are a fresh grad like me or not.  And I knew that by participating in this fellowship I would meet and work with many people who share the same passion for improving healthcare."
Now accepting applications for 2014-15, the CD2 Innovation Fellowship educates aspiring entrepreneurs about medical device commercialization while accelerating the process by which groundbreaking university-based medical innovations reach patients. The program is full time and lasts for one year.
"Though many members of the University community have ideas that benefit patients, they often lack the resources and knowledge to translate their ideas into clinical products," said Maryam Saleh, CD2's invention manager and managing director. "The Innovation Fellowship teaches this commercialization process, enabling more patients to benefit from Northwestern's medical innovations and accelerating a given technology's path to commercialization."
The program takes fellows through the process of "needs finding" and observation — during which fellows select a problem and evaluate how solutions would impact patients, industry, and the healthcare system — to designing and prototyping, seeking feedback from clinicians, developing a commercialization plan, applying for patents, and pitching to investors.
Fellows receive a monthly salary and health insurance for the duration of the fellowship, as well as access to Northwestern experts, industry partners, and facilities, including Northwestern's prototyping shop, machine shop and simulation center.
One month into the program, Apolinario has observed surgeries and attended several conferences to learn about and make connections in the medical device industry. "I hope that we will create something that ultimately helps patients down the line in a major way," she said. "Regardless, I know that this program will make me a better engineer and that I will continue to be involved in product development in the future."
Those encouraged to apply include postgraduate engineers; experienced physicians as well as those in their residency or fellowship training; bio-scientists; seasoned medical device professionals; business professionals; IP attorneys; medical practitioners; and others with a special interest in medical device innovation. Candidates should be self-driven and highly motivated with strong team building skills; possess one or more years of industry experience or research training; and hold a degree in engineering, medicine, or biosciences. Medical or doctoral degrees are preferred.
Applications for the 2014-15 fellowship are due Friday, November 15; the fellowship will begin August 1, 2014, and end June 30, 2015. For more information, visit CD2.northwestern.edu or contact Maryam Saleh at Maryam-saleh@northwestern.edu.
The CD2 was founded by Northwestern's Innovation and New Ventures Office (INVO), McCormick School of Engineering and Applied Science, and Feinberg School of Medicine to develop innovations in the healthcare space using a design-inspired approach.