Honors and Awards
Company Makes "WSJ Startup of the Year" Final Five
Young alumni-led medical startup still a contender in online competition
SwipeSense, a medical startup founded by two recent Northwestern University graduates, has been selected as one of five semifinalists in The Wall Street Journal's "WSJ Startup of the Year," a documentary series that began with 24 startups.
A winner will be chosen Nov. 4.
SwipeSense aims to reduce hospital-acquired infections, which kill an estimated 90,000 people per year in the United States, by providing hospital staff with portable, trackable hand-sanitation devices.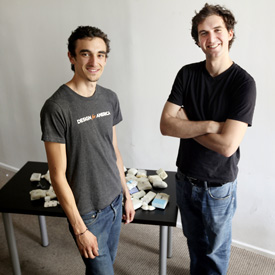 About the size of a pager, the SwipeSense portable hand-sanitizing system affixes to health professionals' belts and dispenses sanitizer at the swipe of a hand. A wireless tracking system also monitors how often the wearer sanitizes his or her hands.
Wall Street Journal editors, with input from mentors, chose the finalists based on the companies' scalability, long-term viability, distinctiveness and utility, the paper reported Sept. 25.
The competition premiered June 24 on WSJ Live, the newspaper's online video platform. The episodic video series matches the startups with global business leaders and influencers, and tracks their progress from startup to success over the course of five months.
Mert Iseri and Yuri Malina created SwipeSense through Design for America, a national student group founded at Northwestern that creates local and social impact through interdisciplinary design. Iseri and Malina co-founded Design for America while undergraduate students at Northwestern. Both graduated in 2011.
Learn more about SwipeSense, based in Evanston, Ill., and its hand-sanitizer dispenser at The Wall Street Journal. 
Watch Brian Cohen, chairman of the investment group New York Angels, interview Malina and Iseri.