Education
Free Online Course Brings Engineering Education to All
Faculty design new studio space for filming online courses like "Everything is the Same," McCormick's first massive open online course
For more than 160 years, getting a Northwestern education meant interacting with faculty members face-to-face in a classroom. Soon some learning opportunities with Northwestern faculty will be available free of charge to people all over the world.
For the first time, Northwestern's McCormick School of Engineering and Applied Science is offering a massive open online course, or MOOC. (MOOCs are free, online courses that attract large numbers of participants seeking to explore a new field or feed a curiosity.) The endeavor will benefit from a new, professor-created recording studio specifically designed for filming new and improved online lectures.
More than 11,000 people have already signed up for "Everything is the Same: Modeling Engineered Systems," an introduction to engineering MOOC that will cover modeling and analysis techniques for electrical, mechanical, and chemical systems. The course's compact structure includes 24 lectures that average less than seven minutes each.
The course will be available on Coursera.org beginning September 23.
"We are trying to embrace groups that elite universities have not traditionally accessed: those without a college education, those with a curiosity about engineering, or high school students trying to decide on a career path," said Todd Murphey, associate professor of mechanical engineering and an expert in robotics. "Online teaching also offers exciting opportunities for augmenting the way professors teach in the classroom."
Designed for students with a background in introductory calculus, the eight-week MOOC will give students a foundation in physical modeling with topics like Newton's laws, Kirchoff's laws, and Fick's laws. Online demonstrations, which feature students from Murphey's lab, explain how students in his lab, and students in the course, can apply these ideas to real examples.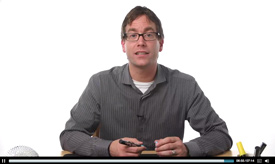 Four meet-ups at Northwestern — to be held October 4, October 18, November 1, and November 15 — will allow "Everything is the Same" participants to meet the course creators and ask questions. Students are also encouraged to perform three of the experimental demonstrations at home using $25 worth of materials that can be ordered online, the only cost associated with the course. 
Filming for "Everything was the Same" was partially conducted in a McCormick recording studio designed specifically for video instruction by Michael Peshkin, professor of mechanical engineering. Professors stand behind a special glass panel on which they can draw diagrams, and a mirrored video camera reverses the image so it appears correctly to viewers.
Peshkin created the studio to record his own lectures for an undergraduate course. His students are asked to watch the online videos on their own time so class time can be used for more personalized teaching. 
"The way lecturers typically make videos is by standing in front of a backdrop with slides superimposed over their shoulder," Peshkin said. "That's great if you're lecturing about a piece of art, but it doesn't work for mechanical engineering."
Like Peshkin, Murphey plans to supplement his Northwestern course with the online videos to utilize class time for discussion.
Camaria Lehman, a junior in Murphey's lab who helped create the MOOC, said the online course would have given her high school classmates insight into the engineering profession. "Very few people in my high school considered going to an elite institution or studying engineering. This would have made those alternatives more accessible," she said. 
For more information about "Everything is the Same," visit Coursera.org or follow @todd_murphey on Twitter.