Honors and Awards
Northwestern Student Startup Featured in 'WSJ Startup of the Year' Documentary Series
Medical startup SwipeSense will work with global business leaders for five-month documentary
SwipeSense, a medical startup founded by two recent Northwestern graduates through the University student group Design for America, has been chosen to participate in the Wall Street Journal's documentary, "WSJ Startup of the Year."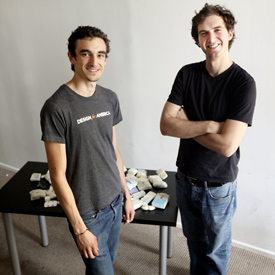 The episodic video series — which premiered June 24 on WSJ Live, the Journal's online video platform — matches 24 startups with global business leaders and influencers, and tracks their progress from startup to success over the course of five months.
Created by Design for America co-founders Mert Iseri (combined studies '11) and Yuri Malina (integrated science '12), SwipeSense offers a way to help solve the problem of hospital-acquired infections, which kill an estimated 90,000 people per year in the United States. (Design for America is a national student group founded at Northwestern that creates local and social impact through interdisciplinary design.)
About the size of a pager, the portable hand-sanitizing system affixes to health professionals' belts and dispenses sanitizer at the swipe of their hand. A wireless tracking system also monitors how often the wearer sanitizes his hands.
Ranging from the fields of health care and philanthropy to energy and education, the 24 startups were chosen from more than 500 applications. Each company is based in the United States, has a prototype or proof of concept in place, and has less than $10 million in annual revenue. 
Sir Richard Branson, founder of Virgin Group; Steve Case, chairman of the Case Foundation, chairman of Startup America and co-founder and former CEO of AOL; and Tory Burch, CEO and designer of Tory Burch LLC, are among the global business leaders participating in the series.
Filming is currently under way.
Watch the first episode of "WSJ Startup of the Year."