Honors and Awards
Northwestern Recognized for Diversity Efforts
National Society of Black Engineers, ExxonMobil present Northwestern with 2013 Impact Award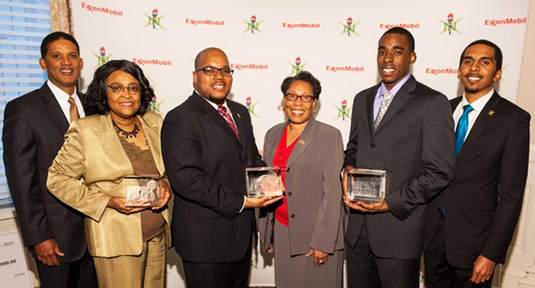 Northwestern University was one of three universities to receive a 2013 Impact Award from the National Society of Black Engineers (NSBE) and ExxonMobil. The $10,000 award recognizes the University for efforts in retaining underrepresented minority students in engineering programs.
"NSBE salutes these outstanding academic institutions for their success in keeping black, Latino, and other underrepresented minority students in engineering," said Carl Mack, executive director of NSBE, a national organization for black engineers and engineering students. "There is an urgent need for more skilled workers in science, technology, engineering, and math fields; the United States cannot afford to continue losing two-thirds of these students to other majors, as it is doing now. These universities are among the few that not only understand the urgency of solving the retention problem in engineering, but are also creative and determined in coming up with solutions."
Northwestern University, Ohio State University, and the University of Michigan received the awards during an event at the Carnegie Institution for Science in Washington, D.C. on April 17. Calvin A. Young, NSBE's national chair, and Kenny Warren, ExxonMobil's vice president of engineering, presented the awards. 
Northwestern was cited for its EXCEL program, an intense, five-week initiative that prepares students interested in diversity issues for their freshman year. The program fosters a cultural community of support while reinforcing excellence in academics. Elements include study-skills development, mentoring, peer-to-peer engagement, and exposure to a variety of engineering disciplines.  
Andy Nwaelele, vice president of Northwestern's NSBE chapter, said the award money will help students continue to thrive by paying for tutors to attend NSBE's Sunday night study sessions ("Study Jamz") and by offering student scholarships to NSBE conventions.
"We want to seek ways to improve our retention even more by living our mission, which is to 'increase the number of culturally responsible black engineers who excel academically, succeed professionally, and positively impact the community,'" said Nwaelele, a sophomore biomedical engineering major in Northwestern's McCormick School of Engineering and Applied Science. "With more money, we hope to continue those efforts and continue to get young people interested in the opportunities engineering and STEM fields in general present."
According to the U.S. Census Bureau, the U.S. population is 16.3 percent Latino and 12.6 percent African American, but the two groups only represent 6.2 and 5 percent respectively of the engineering workforce.
ExxonMobil and the NSBE established the Impact Award in 2011 to honor and recognize collegiate efforts to attract and retain minority students in engineering disciplines. 
With close to 29,000 members, NSBE is one of the largest student-governed organizations in the country. Founded in 1975, NSBE comprises nearly 400 college, pre-college, and technical-professional chapters in the United States and abroad.