Honors and Awards
Northwestern Teams Win More Than $1 Million in Rice Business Plan Competition
SiNode and BriteSeed, teams founded in Northwestern's NUvention courses, win cash and investments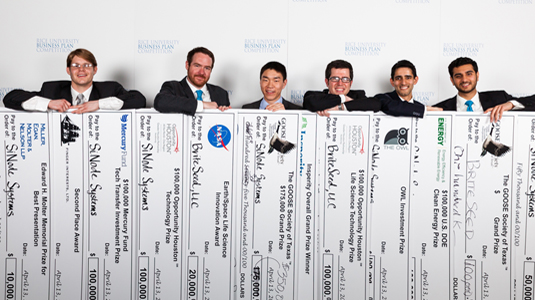 Two business teams founded in Northwestern University's NUvention entrepreneurship courses took first and second place at the Rice Business Plan Competition this weekend, walking away with more than $1 million combined in cash and investments. It is the second straight year that Northwestern teams have won the competition.

The competition is the world's richest and largest graduate-level business plan competition. Forty-two teams from around the world competed in front of 300 judges for more than $1.5 million in prizes. The emerging companies from graduate schools around the world pitched their business ideas to venture capitalist and industry experts seeking startups in which to invest.

Winning first place was SiNode Systems, a clean tech startup that commercialized an anode for lithium-ion batteries that allows the battery to charge more quickly and hold a charge 10 times longer than current technology. Developed in the lab of Harold Kung, professor of chemical and biological engineering at the McCormick School of Engineering, the anode could greatly enhance battery life for smart phones and electric vehicles.

"I am both delighted and excited for SiNode," Kung said. "Their success at the Rice Competition demonstrates the maturity of the students in understanding both the technology and the market, as well as their ability to develop a compelling vision of the future."

SiNode's winnings of $911,000 included the competition's grand prize — $350,000 from the Goose Society of Texas — as well as $100,000 from OWL Investors. Other prizes came from Mercury Fund, the U.S. Department of Energy, Trailblazer Capital, and others.

The SiNode team came together last year during NUvention: Energy, an energy entrepreneurship course offered by Northwestern's Farley Center for Entrepreneurship and Innovation and the Initiative for Sustainability and Energy at Northwestern (ISEN). In the course, interdisciplinary teams of student from across the University develop commercialization plans for early-stage energy products, technologies, or services.

The popular NUvention program — a slate of several entrepreneurship courses on energy innovation, Web-based businesses, digital media, medical innovation, and devices to meet needs in resource-limited settings offered through the Farley Center for Entrepreneurship and Innovation — has spawned a number of startup companies. Industry leaders help teach the courses in which teams start with a product idea with the goal of ending up with a business.

SiNode comprises graduate students from two Northwestern schools: Joshua Lau and Thomas Yu of McCormick's Department of Materials Science and Engineering; Cary Hayner of McCormick's Department of Chemical and Biological Engineering; and Guy Peterson, Samir Mayekar, and Nishit Mehta of the Kellogg School of Management.

Another Northwestern team, BriteSeed, took second place in the competition, winning $273,000 worth of investments and in-kind awards. A medical startup, BriteSeed introduced their product SafeSnips, technology that can be integrated into surgical tools to detect blood vessels during surgery and prevent unintended bleeding.

SafeSnips was created during the 2011-12 academic year by a team of four students representing three Northwestern schools: Mayank Vijayvergia, a graduate student in McCormick's Department of Biomedical Engineering; Paul Fehrenbacher, a medical students at the Feinberg School of Medicine; Muneeb Bokhari, an alumnus of the Law School; and Jonathan Gunn, a current Law School student.

Other BriteSeed team members are Hariharan Subramanian, an alumnus of McCormick's biomedical engineering program and a research professor in the lab of Vadim Backman, professor of biomedical engineering; and David M. Mahvi, James R. Hines Professor and Vice Chair of Surgery and Chief of Gastrointestinal and Oncologic Surgery at Northwestern's Feinberg School of Medicine.

The device came out of Northwestern's NUvention: Medical Innovation course during the 2011-12 academic year.
"The wins by SiNode and BriteSeed make a strong statement about our talented students and are also a validation of our interdisciplinary NUvention academic programs, which brought these students together with our talented faculty and alumni," said Michael Marasco, director of the Farley Center. "It is exciting to see our students leveraging our researchers' work to bring innovations to market that have the potential for significant impact. Our partnerships with multiple Northwestern schools and INVO (Northwestern's Innovations and New Ventures Office) are critical for our student successes within and outside the classroom."

BriteSeed is being mentored by the Chicago Innovation Mentors program, a multi-institution initiative that cultivates university-based biomedical and healthcare commercialization by matching experienced entrepreneurs, executives, and domain experts with innovating faculty.


Of the more than 400 companies from around the world that applied, 42 teams were invited to pitch their business plans at the three-day competition at Rice University. More than 300 judges, including venture capitalists, angel investors, entrepreneurs, and business leaders, vetted the teams.

The event was hosted by the Rice Alliance for Technology and Entrepreneurship and the Jesse H. Jones Graduate School of Business.