Research
Bone Marrow Cells, Synthetic Scaffold Used in Bladder Regeneration
New tissue-engineering strategy could offer hope to patients with spina bifida, bladder conditions
For patients suffering from spina bifida, the most common disabling birth defect in the United States, bladder dysfunction is common. Surgery is often considered the best treatment, but it comes with a host of complications, and today's bladder tissue engineering strategies are unable to sufficiently reform bladder tissue without causing other problems.
In a new study, Northwestern University researchers explore an alternative to contemporary tissue-engineering strategies. The result is a new approach to bladder regeneration that can reform bladder smooth muscle, vasculature, and promote peripheral nerve tissue growth, all while using populations of cells from the patient himself.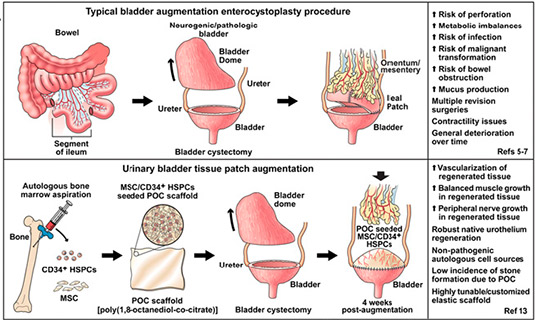 The approach utilizes a synthetic scaffold developed by Guillermo Ameer, professor of biomedical engineering at Northwestern's McCormick School of Engineering and professor of surgery at Feinberg School of Medicine, and two distinct cell populations harvested from a patient's healthy bone marrow. The work was conducted in collaboration with researchers at Feinberg, the Ann & Robert H. Lurie Children's Hospital of Chicago, and other institutions.
"We are manipulating a person's own disease-free cells for bladder tissue reformation," said Arun Sharma, research assistant professor in urology at Feinberg and the paper's lead author. "We have used the spina bifida patient population as a proof of concept model because those patients typically have bladder dysfunction. However, this regeneration approach could be used for people suffering from a variety of bladder issues where the bone marrow microenvironment is deemed normal."
In end-stage neurogenic bladder disease — an illness often associated with spinal cord diseases like spina bifida — the nerves that carry messages between the bladder and the brain fail to work properly, causing an inability to pass urine. The most common surgical option involves placing a "patch" derived from an individual's bowel over part of the diseased organ in order to increase its size. The procedure remains problematic because the bowel tissue introduces long-term complications like the development of electrolyte imbalance and bladder cancer. Furthermore, bladder manipulation frequently results in stones, hard and painful buildups of minerals in the bladder.
The procedure described in the study does not use bowel tissue. It instead combines stem and progenitor cells from a patient's bone marrow with a synthetic scaffold engineered to support tissue formation, created in Ameer's lab. 
The scaffold — a safe, rubber-like polyester derived from citric acid — takes the place of the traditional patch in conventional surgeries.
"This is a very simple procedure, and it utilizes materials that are safe, inexpensive, and mass-produced," Ameer said. "And the scaffold offers several benefits. Not only does the polyester serve as a matrix, allowing the stem and progenitor cells to grow, but it also minimizes the formation of bladder stones."
The findings were published February 18 in the Proceedings of the National Academy of Sciences (PNAS). 
Other collaborators include the Loyola University Health System, the University of Michigan, and Rush University Medical Center.